Bahamian police are currently investigating the murder of a Guyanese woman, who was stabbed multiple times in her Nassau Village apartment yesterday morning.
The lifeless body of 35-year old Marisha Bowen, a teacher at the Charles Saunders High School, was discovered by police, who were alerted after she did not show up to work, the Bahamas Press reported.
"Loud screams we understand were heard in the community from the complex around 7 this morning after what was thought to be a domestic dispute inside. And no one called police after the screams were quickly silenced," the report added.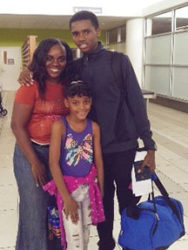 Police reportedly stated that there was no evidence to indicate that there was a forced entry into the woman's apartment. However, they noted that there was enough evidence to suggest that Bowen's assailant may have been known to her.
The Bahamas Press report stated that when the police visited the scene of the crime, there was a large presence of blood, while Bowen's body showed evidence that indicated she was stabbed multiple times.
Both teachers and students at the Charles Saunders High School were shocked to hear of the woman's demise.
The murder is the second homicide for the month of September and the 69th for the year, the report said.
Stabroek News was told that Bowen, a graduate of the Cyril Potter College of Education and the University of Guyana, was a former teacher at both the Brickdam Secondary School and the Central High School.
She had also been a contestant in the 2012 Miss Renaissance Pageant as well as in the Mother and Daughter Pageant of the same year.
Bowen was the mother of two children, both of whom resided with her in the Bahamas.
"It was like yesterday mommy. Nobody can tell how I feel; I will truly miss u. Gone but never forgotten," her son wrote in a Facebook post.
Around the Web