Robert Rawlins, who was on trial for a cutlass attack on a former partner, was yesterday sentenced to 12 years in jail by Justice Jo-Ann Barlow after a jury found him guilty of the crime at the Berbice High Court.
Rawlins, of Kingston Squatting Area, Springlands, was found not guilty of a charge of attempted murder but was convicted for wounding with intent to cause grievous bodily harm to Sharmila Singh.
States prosecutor Stacy Goodings had told the court that on July 3rd, 2014, Rawlins wounded Singh, 45, of Kildonan, Corentyne, with whom he had shared a two-year relationship.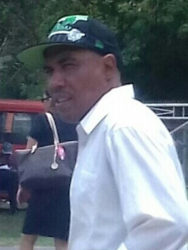 Singh, who took the stand during the trial, had recounted that she was sitting in a hammock with her former sister-in-law at her home in Kingston Squatting Area when Rawlins entered with two cutlasses. She stated that he spoke to her and then started to fire chops at her with the weapons.
According to Singh, her sister-in-law rushed to the back of the premises to alert the other persons who were in the yard. She said after Rawlins started to fire the chops, she lost her voice in shock and could not scream for help. Singh told the court that Rawlins chopped her about her body and then left. She was taken to the Skeldon Hospital before being transferred to the New Amsterdam Public Hospital and then to the Georgetown Public Hospital, where she was admitted for some time.
Rawlins, who opted to represent himself during the trial, had claimed that two men attacked them and during that altercation Singh sustained the injuries.
Around the Web