Armed bandits yesterday stole $3M in cash during an early morning home invasion at Edinburgh Village, East Bank Berbice, during which they broke the arm of a pensioner before leaving him and his daughter bound and gagged.
The attack on Andrew Dos Ramos, 67, and his daughter, Kamlawattie, 45, of Lot 5 Edinburgh Village, East Bank Berbice, has left them both traumatised and calling for swift action by lawmen to bring the perpetrators to justice.
Three men, who were armed with a knife, a cutlass and a gun, carried out the attack, which began around 1am and in addition to the cash, they made their escape with a shotgun with 75 live rounds, a quantity of jewellery, alcohol, and some household items.
Kamlawattie Dos Ramos told Stabroek News that she was awakened by shouts coming from her father around 1am. "Me call three times for him. Ah ask him what wrong? All me hear one time, 'A thief man,' nothing more," she related. "Then, 'Bram!' Me room door kick down, the man grab me from my throat, ah couldn't breathe or move nothing," she added.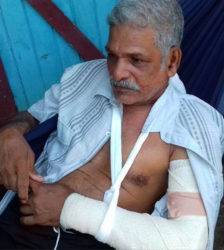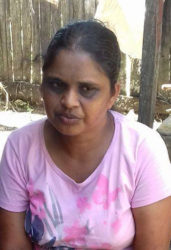 According to the woman, she pleaded with her attacker to let go of her throat but her cries were ignored. "Me beg them, 'Ayo loose me, me nah able breathe, ayo give me air nah.' Them tell me I got to stay just so and then them tell me to tell them where the million dollar deh, where the jewellery deh and where the gun deh," she recounted.
She said she told the men that she did not have any money or jewellery, after which they started to beat her father. It was then that she gave in to their demands. "Then me tell them, 'Okay, all the money and jewellery wah abie get, me go give ayo; ayo nah beat abie or kill abie," she told them.
Kamlawattie noted that she disclosed to the perpetrators that all of her valuables were in the wardrobe. "Then them duct tape me mouth and duct tape me hand behind me back, throw me flat on the bed and one sit down on top of me and them tumble the whole house," she added.
She said the ordeal lasted about one hour. She recalled that after the men left, she found her father tied up with a net in front of his room door, unconscious.
Andrew Dos Ramos said he tried to resist the men when they attacked. "Them mash me down and tie me up with the netting," he said. "Me fight and fight and them say nah fight, that them go kill me. Them tape up me foot and them wrench me hand far back when them go tape it up," he added. As a result, his left arm was broken. "When them tape me foot, me hand, me mouth, me can't able breathe, make me get black out," the man recalled. The perpetrators ransacked the family home and car.
The pensioner and his daughter yesterday called on the division's lawmen to put the perpetrators behind bars at the earliest so as to give them some sort of peace of mind and help them return to normalcy.
'B' Division Commander Ian Amsterdam said no arrest had yet been made but indicated that police were working tirelessly to nab the perpetrators of the attack. (Bebi Oosman)
Around the Web