A woman and her mother are now hospitalised after they were brutally chopped by her abusive ex-husband, who later committed suicide.
Injured in the attack, which occurred on Thursday evening, were Savitree Sankumar and her 66-year old mother, Rookmin, both of Parika, East Bank Essequibo, while their attacker Sewsarran Sankumar, 55, succumbed at the Leonora Diagnostic Centre after he ingested a poisonous substance.
Speaking from her hospital bed in the Surgical Ward of the Georgetown Public Hospital, Savitree told Stabroek News that she and her former husband had been living together in Venezuela for a number of years before separating three years ago due to his abusive behaviour.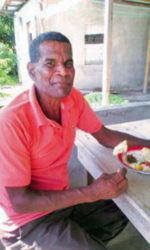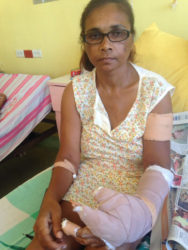 In light of the separation, the woman returned home to Guyana in January of this year and moved back with her mother at Parika. However, the man also returned to Guyana and began threatening her and her family soon after.
"He sell out the house and he come behind me but he family nah want he, so me give he a next chance to help he and we live together for two months. But he come with the same attitude and he use to threaten me all the time and me family, so we separate again and I had to give he a restraining order," Savitree said.
As his behaviour continued, the man found himself spending six weeks in prison, Savitree said, before adding that upon his release, he made an unsuccessful attempt to break into her house.
She added that the man eventually left the area for a period of two weeks to seek employment in the interior.
Ranjanie, the woman's sister, who was also present at the hospital, said that after her former brother-in-law left for the interior, the family felt at ease, since they assumed that he finally decided to move on.
"Nobody expect that he would've done that because after he went away, we thought he moved on. On the day, she (Savitree) and my mom were at home and I was doing some work in Parika, so I would usually go home for lunch. My mom realised that I didn't come home as yet so she decided to call me and ask if I'm not coming… Is na long after we done talk that he appear in the room and start chop them," Ranjanie said.
Savitree explained that she was sitting in the chair next to her mother when her ex-husband entered the room and started to attack her mother.
At this point, she made an attempt to escape but her attacker was quicker and he blocked her. This resulted in the two getting into a physical fight as she tried her best to defend herself against her cutlass welding ex-husband.
"I try to get way the cutlass from he but when me fight, fight, the cutlass fall down and he pull out a knife and start punching me. We fight, fight till me fall pon the ground and he get up and he try to pull the cutlass away from me and he de going away.
But same time, my mother get up and he turn back and he start pon she again till me get fuh escape from the house and start hollering for me neighbours them," the woman explained.
Savitree stated that the man eventually fled and returned to his brother's house a short distance away, where he ingested the poison.
"Everything happened so instantly because by the time I reach, she had done get the chop, the police had done reach and they collect him," Ranjanie said.
She further explained that her former brother-in-law was subsequently taken to the Leonora Diagnostic Centre, where he succumbed. Both her mother and sister were taken to the same hospital, where they were treated before being subsequently transferred to the West Demerara Regional Hospital and the Georgetown Public Hospital, respectively.
Ranjanie explained that based on the injuries sustained by her mother, it would seem that she suffered the worst of the attack as she received several chops to her face, neck and hands, all of which caused her to lose large volumes of blood.
Her sister, on the other hand, suffered a broken finger along with several chop wounds and shallow stab wounds about the body.
She also received a chop to her left hand that almost severed her finger.
Both women are stable and they are expected to undergo surgery in the coming weeks for the injuries suffered.
While she praised both the police ranks and doctors for their work, Ranjanie expressed disgust with the work ethics displayed by porters of the West Demerara Regional Hospital.
She noted that the porters take it upon themselves to use person's vulnerable situations to exploit them for money for service at the West Demerara Hospital, which she said was experienced firsthand when her mother was transferred to the hospital.
The woman explained that she was approached by porters who told her that they would have to be paid before they render their services to her mother.
Around the Web