The alleged bandit who was fleeing from the police on Tuesday afternoon during which a woman was accidentally shot was turned in at the Brickdam Station by his mother yesterday.
Jean Rodrigues, 54, of 35 Crane, West Coast Demerara, the woman who was shot, remains in the Intensive Care Unit (ICU) of the Georgetown Public Hospital as she slowly recovers. It was reported that the woman was hit  by a round that was discharged from an armed bandit who was fleeing the police near the Timehri bus park.
However, a woman who identified herself as the suspect's mother, Linda, stated yesterday in front of the Brickdam Police Station, that she had turned her son into the police after he explained to her what happened.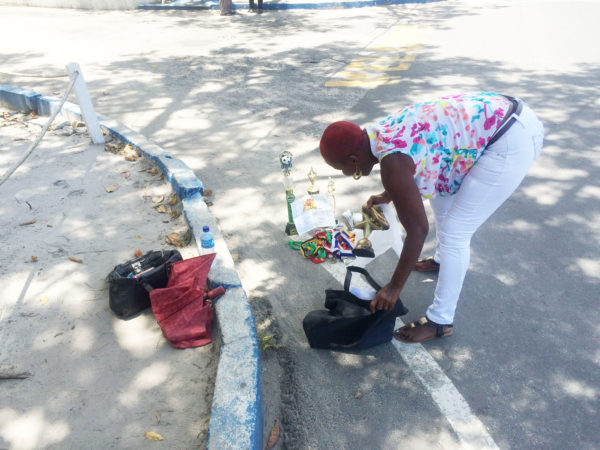 She said her son had explained to her that he was on the park and had an altercation with a girl who had  brought her brother.
Subsequently,  the girl's brother pulled out a gun and fired a warning shot in the air. The boy then started to run after which the police started to chase him. "The police start running behind he and they didn't even know why he de running," she said, stating that the police opened fire on him".
She said that her son, who is 17 years old and is a footballer who attends the Chase Academy, had called her on Tuesday night and explained to her that he was at a friend in Leopold Street and what had happened.
However, after she visited the police station and the police requested that she turn him in for questioning she did. "They said they only want to question him and now they saying that they have to hold him for three days," the emotional woman said.
The woman emphasized that her son was not a criminal and has never been involved in criminal activities. She explained that eyewitnesses had told her that it was the police who accidentally shot the woman.
Rodrigues' family, who were present when she was shot, had also told Stabroek News that it was the police officer who had fired the shot that hit the woman.
Acting Crime Chief Hugh Jessemy confirmed with Stabroek News yesterday that the alleged perpetrator was in police custody. In reference to who fired the shot that hit the woman, he explained that the police are still doing their investigations to ascertain that.
Around the Web