United Nations Secretary-General Ban Ki-moon has declared that he will make an assessment by November on the way forward in the longstanding border controversy between Guyana and Venezuela.
"I have to make an assessment by November," Secretary-General Ban was quoted as saying by the Ministry of the Presidency during a meeting yesterday with President David Granger at the United Nations' Headquarters in New York.
A Ministry of the Presidency statement on the meeting further stated that the timetable was accepted by the President, who committed to providing any additional information that may be needed in order to complete the assessment. 
Guyana had written last year to Secretary-General Ban seeking a juridical settlement to the controversy. The Secretary-General subsequently dispatched several missions to both Guyana and Venezuela to discuss the way forward.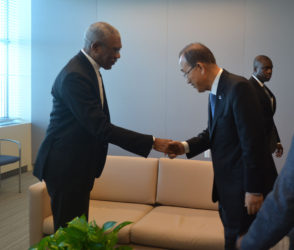 Guyana's border with Venezuela was settled by international arbitration in 1899 but Venezuela has continued to claim that this award is null and void and has called for a UN Good Officer process to be used to settle the controversy.
While this issue has simmered for several years, it escalated in May last year when Venezuela issued a maritime decree claiming most of Guyana's Atlantic waters. Since then Guyana has mounted an intense international campaign to rebuff Venezuela's claims and to articulate the position that a juridical settlement is now necessary.
Four days ago, President Granger used his address to the UN General Assembly to accuse Venezuela of thwarting all attempts by Secretary-General Ban to find a way forward in settling the border controversy even as he made an impassioned plea to the UN for protection against threats to the country's security.
"Venezuela, for a full year since I spoke,  has stalled by every means as it intensified its aggression against Guyana and thwarted all of the Secretary-General's efforts to pursue 'a way forward,' at least in terms of a process that promises final resolution to the controversy. Guyana stands ready to have the International Court of Justice determine the matter with finality. We will work resolutely with the Secretary-General in his final months in office to free Guyana, and his successor, from this surreal burden," he said.
Yesterday, Granger thanked the Secretary-General, who will be demitting office on December 31, 2016, for his efforts.
"We have been very impressed with the seriousness with which you have approached the problem and your own sincerity… We have been personally convinced that you want to bring closure to this matter," he said before telling reporters that "We support the process. We are confident that this process will lead to a conclusion that is satisfactory."
Around the Web