A 23-year-old man of Gangaram Village, East Canje, Berbice took his own life after a dispute with his overseas-based girlfriend.
Lakeram Kewlachand, 23, a hire car driver of Lot 114 Gangaram Settlement, was found in his room on Thursday last around 02:30 pm after he consumed a poisonous substance. The discovery was made after a friend of the deceased phoned relatives and informed them that moments ago Kewlachand posted on a social media site that he had decided to end his life due to his relationship problems. Kewlachand was rushed to the New Amsterdam Public Hospital where he remained in a serious condition until he succumbed yesterday morning.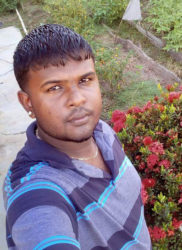 Meenwattie Kewlachand, his mother, told Stabroek News that on Thursday he left home stating he was going to "town" after which he returned home and shortly after the discovery was made. The grieving woman noted that her son had attempted to take his own life two times in the past since being in this one-year-long relationship.
The woman, in tears, said she wished there was something she could have done to save her son, "I does always tell he if anything a bother he let he come and talk to me and we gone deal with it…I does tell he come hug me and we gone talk, or if you na want tell me pray".
Kewlachand leaves to mourn his mother, father, brother and sister.
Suicide in Guyana is a serious social problem as according to a PAHO/WHO report, Guyana has the highest rate of suicide in the world. If you, or any one you know is experiencing suicidal thoughts, you can contact the suicide helpline to receive assistance.
The Inter Agency Suicide Prevention Help Line can be accessed through the following:
Telephone: 223-0818, 223-0009 and 223-0001
Mobile: 600-7896 or 623-4444
Email: moc.oohay@ycnegayug
BBM: 2BE55649 or 2BE56020
Twitter: @guyanaagency
Whatsapp: 600-7896 or 623-4444
Facebook: Guyana Interagency Suicide Prevention Help Line
Around the Web