A trucker of Glasgow Housing Scheme, East Bank Berbice, was on Friday evening attacked at his home by bandits, who beat and robbed him of cash and jewellery.
The attack on Jason Hussein, 24, of Lot 1126 Glasgow Housing Scheme, was carried around 8 pm by three masked men, who were armed with a gun and cutlasses and shot at him after he tried to resist.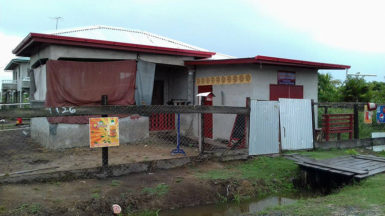 Hussein's family did not want to comment on the robbery, however, a police source said he told investigators that he was eating his dinner when he heard a noise and decided to investigate. Upon investigating, he discovered a man armed with a cutlass climbing through his bedroom window.
Hussein threw his plate of food at the man and ran to the front door in an effort to escape. However, when he opened his front door, he met two other robbers; one was armed with a gun and the other was armed with a cutlass. There was reportedly a scuffle and the man with the gun shot at Hussein. However, the round missed him and hit his fridge instead.
Hussein was then tied up by the men, who dealt him several cuffs and kicks about his body while demanding that he hand over his valuables. The men, who were clad in all over black and were also wearing gloves, then proceeded to ransack the flat three-bedroom home, which also houses a shop.
After discovering a quantity of cash and jewellery, the men then made their escape on foot.
Hussein managed to free himself and alerted neighbours and relatives, who immediately phoned the police.  It was noted by the source that Hussein and his wife along with their three-month-old child and his 40-year-old mother-in-law live together, although he was home alone at the time of the attack. The source pointed out that most of the jewellery that was stolen belongs to Hussein's mother-in-law.
According to information gathered, the police arrived in less than five minutes after receiving the call since they have increased their patrols for the holiday season. Up to yesterday afternoon, no arrest had been made.
Around the Web