Moneychanger Vishwahnauth Nouwbat says slain robbery suspect Rondell Marks was the man who shot him in the Popeyes fast food restaurant on Water Street just over two weeks ago.
Nouwbat, 32, called 'Vishal' of 'C' Field, Sophia, Greater George-town, who on Monday returned to the Stabroek Market area to ply his trade, told Stabroek News that he was able to identify the man after he saw his pictures in the news.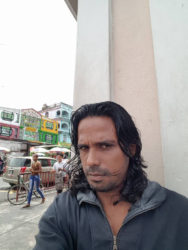 Police had said ballistics testing would be conducted on a pistol, which was recovered after Marks was killed in shooting with lawmen, to ascertain if it was used in the shooting of Nouwbat or any other recent crime.
On November 7, a day after the shooting, Marks posted a photo on his Facebook page of a firearm resting on the headline of a newspaper article on the shooting of the money changer.
According to Nouwbat, he was sitting in the fast food restaurant when he was approached by the shooter, who asked that he hand over his money. After he told the man he did not have any money, a scuffle ensued. He stated that it was at that point he was shot and the shooter ran out of the restaurant and hopped on a waiting motorcycle.
He noted that the police did not contact him for a statement nor was he told to visit a police station.
Nouwbat, who was shot to the abdomen, said the bullet missed his spinal cord by an inch. He added that the doctors had to perform an emergency surgery to repair tissues that were damaged.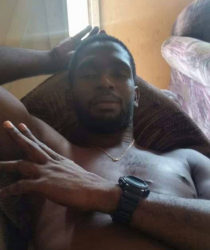 He added that since the shooting, he has been suffering from an irregular heartbeat, which has resulted in blood clotting. He noted that he has been placed on medication to prevent the clotting.
Marks, also known as 'Romel Hoppie' and 'Blackie,' 34, a former police officer of Suddie Housing Scheme, Essequibo Coast, was killed last week after a shootout with police at Vryheid Village, West Canje, Berbice.
Police had visited the farmhouse that Marks was occupying in Vryheid Village to investigate the theft of 29 head of sheep from a Betsy Ground farmer and were allegedly confronted by him. Police say he rushed inside, armed himself with a gun and attempted to shoot the armed policeman who was behind him. However, the policeman shot Marks, who was then taken to the New Amsterdam Public Hospital, where he was pronounced dead on arrival.
The police retrieved a silver Taurus pistol and six live matching rounds from the house, along with a phone, two silver rings, a silver chain, a laptop computer and several electronic gadgets. Ranks have confirmed that the phone, rings and the chain belonged to a 27-year-old man of Ankerville, Port Mourant, who was robbed at gunpoint on November 11, at Smithfield. The robber reportedly fit the description of Marks and allegedly discharged a round from a silver handgun during the attack.
Around the Web