The designer of Guyana's flag, the Golden Arrow Head, American Citizen, Dr Whitney Smith has died.
Smith who was a Vexillologist and scholar of flags, died on Thursday, November 18th, 2016 in Peabody, Massachusetts, at the age of 76.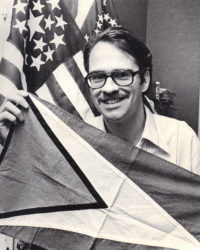 The Government of Guyana has through the Department of Public Information (DPI) extended condolences to the family, relatives and friends of Smith on his passing. Additionally the Ministry of Education, Department of Culture, Youth and Sport has also offered their condolences.
According to the DPI release, in 1960, while a political science undergraduate at Harvard University, Smith designed the Golden Arrowhead for the then soon to be independent Guyana.
At 20 years old Smith wrote to then former Chief Minister, Dr. Cheddi Jagan, to ask what the new country's flag was going to be. Dr. Jagan invited Smith to submit his ideas which he did and which were subsequently adopted with some modifications.
The scholar of flags spent his life analysing and supporting the analysis of all aspects of flags. He is credited with having created the term 'vexillologist' to represent this field. He also wrote over 20 books and 250 articles and journals about flags. Most of those pieces were published in the Encyclopedia Britannica.
Around the Web