Adding her voice to the call for the elimination of violence against women, Minister of Social Protection Volda Lawrence yesterday urged citizens to become involved and demonstrate their commitment to wiping out the social ill.
Giving the feature address at the opening of an Interfaith Service and Roundtable Discussion on violence against women, held under the theme 'Orange the World: Promoting Equality, ending Gender-Based Violence' at the Ramada Georgetown Princess Hotel yesterday, Lawrence charged the members of non-governmental organizations, students and others present to stand up and voice their concerns on the issue.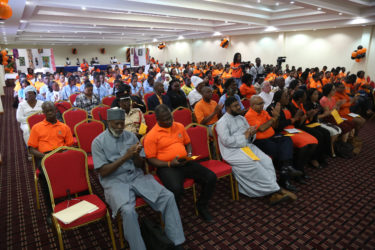 "This is a national call for the elimination of violence against women. So, you can stop, press pause, place the phones on silent and listen for a while… I want us all to break the silence, to lend all our voices throughout all the regions of this beloved country of ours," Lawrence charged.
She added that she did not just want persons to just lend their voices but to stand in unison against domestic and intimate partner violence. "Today I want us all to make it our business, make it our responsibility…," she said, while adding that persons must desist from thinking only the ministry and other authorities can address the issues and find solutions.
She said there is an urgent need for a collective voice and that all the ministries, NGOs and other authorities like the police force, community leaders and even the victims need to come together to fight the societal scourge. She added that even as persons break the silence they also need to free themselves from the violent acts. She noted that violence has become so embedded in people's daily routine that they are no longer willing to resolve matters amicably. "A dispute is settled with a blow or the flash of a weapon. Domestic matters escalate to violence in the presence of children and even children resolve their conflicts by hitting out violently at each other, by bullying," Lawrence said.
With reference to women, Lawrence charged them to now allow violence and sexual harassment to control their lives. She called on all women to speak out against what is happening in the domestic arena and to seek support and guidance from the agencies that are at their disposal. "…And most of all, empower yourself through education and training," she said. She explained that when women enhance themselves with skills and education, then they are able to break free from dependency and can transform their lives and put an end to victimization.
"Share your story, connect and engage in empowerment, training and let your ingenuity and expertise move you out of the vicious claws of violence," she posited.
Lawrence also pointed out that men have a large role to play in eradicating violence against women. "Men in civil society need to raise their voices. We must remove obstacles and invest our efforts and strive towards lowering domestic violence in all aspects," she added.
The roundtable discussion initiative is expected to encourage national commitment towards ending gender-based violence in anticipation of forming purposeful and strategic alliances with the inter-faith community. Engaging various stakeholders to examine strategies for involving men and boys at various levels, it is thereby expected to contribute to the prevention and elimination of violence against women and girls and create opportunities for discussion about challenges and solutions for gender-based violence.
The ministry has partnered with several organizations to usher in 16 days of activism against gender-based violence. The trees on several avenues in Georgetown were draped in orange fabric to symbolize the initiative.
Other initiatives include: A radio programme on 94.1 BOOM FM from November 28th to December 2nd, an art exhibition at the National Gallery, Castellani House, school outreach programmes, a social experiment in collaboration with the Rotaract Club of Georgetown at the Giftland Mall on December 2nd and a self-defence workshop in collaboration with the Canadian High Commission on December 3rd.
Around the Web