Government has started the search to find a new Ombudsman and is hoping to make an appointment early next year, according to Minister of State Joseph Harmon.
The position became vacant after Ombudsman retired Justice Winston Moore passed away in September.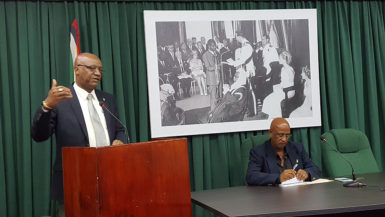 The office had been vacant for almost a decade before Justice Moore's appointment. With his death, there are some concerns that the post will remain vacant for an extended period of time. Questions have also been raised about the fate of the matters he had been examining but never got the chance to complete.
Asked about the vacancy during a post-Cabinet press briefing on Thursday, Harmon said government is looking at "the names of persons."
He said the candidate should be either a retired Justice of Appeal or a High Court Judge who is qualified to be a Justice of Appeal.
"So what that means is that your scope is very limited in the number of persons that you can actually have in that position. I can say to you that we are in fact looking at it and I did announce in the National Assembly on Monday night that by the first quarter of 2017 we will have an Ombudsman…," he said.
Asked how many persons are being considered, he did not give a definitive answer but said that government has to look at the whole list of retired Justices of Appeal or High Court judges capable of being Justice of Appeal. "So that's the scope that we have and that is what we are looking at," he said.
Justice Moore took the oath of office before then president Donald Ramotar in January, 2014 after consultations between the government and the main opposition, A Partnership for National Unity (APNU).
The Constitution states that the Ombudsman may investigate any action taken by any department of government or by the president, ministers, officers or members of such a department or authority being action taken in exercise of the administrative function of that department or authority.
Around the Web