A Number 60 Village, Corentyne man was chopped to death after a dispute with another man at his home on Monday night.
The body of Ravi Kumar Sharma, also known as 'Kasho,' 25, was found with visible chop wounds next to the fence of the home he shared with his mother, Devika Deo, who made the gruesome discovery.
"Place been a get bright and when me come me walk in and me say aye 'Bai, get up you behind from deh, you a drink rum and lie down all about,'" Deo said, while noting that her son was a known alcoholic.
"Me walk up lil bit more, me see this thing and me start holla… Me run till a backyard and then me run so and cut across, me na know weh me deh pon when me see me son like a that," she added.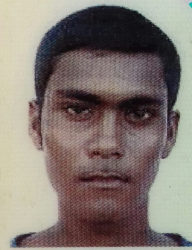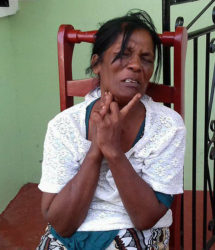 The suspect was said to have been raised alongside Sharma by the mother of the deceased, Deo.
Acting Commander of 'B' Division Errol Watts confirmed to Stabroek News that the suspect was in custody. He added that the man has since given investigators a statement confessing to the murder.
The acting Commander stated that the man said he was at Sharma's house late on Monday night, when an argument erupted between the two.
According to the accused, Sharma dealt him a blow to his head, after which he returned with a cutlass and chopped the man about eight times.
Stabroek News was told that the accused was arrested when he visited the Number 51 Police Station yesterday morning to report that he had only broadsided Sharma. At the time, he was supposedly unaware of Sharma's death.
Watts said charges are expected to be laid shortly against the accused.
Meanwhile, Deo said she had raised the suspect as her son. "Since he small me a look after him," she said, while noting that she still washed, cleaned and cooked for him and he would pay her.
Sharma and the accused, both fishermen, recently returned from sea. Deo said Sharma and the suspect would fish and drink together. "Me na know, them never get problem before," she noted.
Sharma sustained a total of eight chop wounds along with other injuries about his body. Deo relayed that her son's jaw seemed twisted, as if someone beat him before chopping him.
Meanwhile, one of Sharma's brothers told Stabroek News that he met the suspect when he took his brother's body to the Skeldon Public Hospital yesterday morning. "Me ask am why he kill the boy. He say that story get two sides," he said. "Dah all wah he a tell me."
Sharma is survived by his mother and his five siblings.
Around the Web