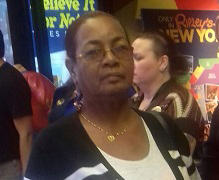 A 61-year-old woman is now dead and a number of other persons, including three foreigners  were injured yesterday morning following a three-vehicle collision along the Mahaicony Public Road, East Coast Demerara (ECD).
Dead is retired Deputy Regional Executive Officer of Region Nine Esme Pamela Rockliff, a mother of four, who resided at Lot 6 'L' Enterprise, Mahaicony, ECD.
The police said last night they are investigating the circumstances surrounding the three-vehicular accident on the Fellowship Public Road, ECD which occurred about 10:30 hrs. yesterday. In a statement, the police said that eight persons were hospitalized inclusive of four foreign and two Guyanese University of Guyana students and a driver of one of the vehicles.
It said that enquiries disclosed that Mini Bus #BPP2127 was proceeding east along the northern side of the road, with motor car #HC7188 following in the rear, when Mini Bus BJJ 3844 which was proceeding in the opposite direction suddenly made a U-turn causing Mini Bus #BPP2127 to collide with the right section of BJJ3844 and HC7188 collided with the rear of BPP2127.
As the result of the collision the following persons suffered injuries and were rushed to the Mahaicony Cottage Hospital.
1)      Walter Haywood, 69 years old, of Waterloo St., G/T (driver of BPP2127)
2)      Yenver Caezar, 23 yrs., of St. Lucia (UG Student)
3)      Makeshi Peters of Trinidad and Tobago (UG Student)
4)  Michael Rajnauth, 21 yrs., of Trinidad and Tobago (UG Student)
5)      Trecia Williams, 21 yrs., of Blankenburg W.C.D (UG Student)
6)      Chritstine Basil, 24 yrs, of Anira St., Queenstown G/T (UG Student)
7)   Makini Barrow, 28yrs of St. Vincent and the Grenadines (UG Student)
8)  Gavin Roberts, 42yrs, of Recess, Mahaicony and
9)  Esmai Rockliffe who died about 15:00 hrs. at the G.P.H.C.
The police said that Roberts and Rockliffe were occupants of Mini Bus #BJJ3844, driven by Kamar Rahim, 29 yrs. of Novar, Mahaicony who along with the driver of HC7188 Parmarshur Raikha only suffered minor injuries.
All the other injured persons were occupants of Mini Bus #BPP2127. They were said to be on their way to the Tain Campus on an exchange programme.
Later, Trecia Williams, Christine Basil, Makini Barrow and Gavin Roberts were transferred to the GPHC.
The drivers of BJJ 3844 and HC7188 are in custody. They along with the driver of BPP2127 who is hospitalized were tested and no trace of alcohol was recorded.
Speaking to this newspaper yesterday, son of the dead woman, Nial Rockliff said he was at work when he received a call from his brother informing him of an accident on the Mahaicony Public Road. "I didn't think at all that my mother was in the accident until after midday yesterday I get a call from a nurse at the hospital who used my mother phone," he said.
According to Nial, he was on the East Bank Demerara when he received the call and the person inquired if he knew the owner of the phone. "She [the nurse] tell me about the accident and say that they bringing her down to Georgetown Hospital in an ambulance now," he said.
As a result, Nial said he immediately went to the GPH and awaited his mother's arrival. However, he was unable to speak to her since she was in an unconscious state. "I couldn't even recognise her because her face all did swell up," he related.
The grieving man said that his mother had left home yesterday morning to visit the bank in Rosignol and was returning home when the accident occurred.  Her body is currently at the GPH mortuary awaiting a post-mortem examination.
Investigations are ongoing.
Around the Web