A Sheet Anchor teenager was carjacked on Tuesday around 8 pm in the vicinity of Angoy's Avenue and police in 'B' Division are currently searching for the car, PTT 6559, a new-model, button-start, white Fielder wagon.
Kalicharan Sookchan also known as 'Amit', 17, of Lot 98 Sheet Anchor Village, East Canje, Berbice told Stabroek News that he had dropped off the owner of the car, Shawn Nandlall, at Pitt Street, New Amsterdam and was driving towards New Street, when he heard someone shout "Kalicharan".
Sookchan, who insisted that he was not operating the private car as a taxi, said he picked up the man who told him that he had to collect a girl in Angoy's Avenue. Sookchan explained that he took the man to his destination and was asked to wait. "Me had to wait am for five minutes, then two other man with he come in and say 'yeah let we go to Main Road, turn.' When me turn back and thing, one a them put one gun to me, one start choke me and tell me get out the car and one start tape up me hand."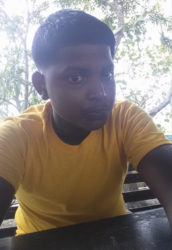 According to Sookchan, the first man he had picked up then drove the car to a bushy area not too far away. "…Me mouth na been tape cause them na find no tape, so me decide to start holla and them fire a shot," he said, adding that the men then started to question him. "Them ask me where me from and who me a live with and me tell them lie because me na trust them."
He said two of the men then took the car to "gas it up," whilst one stood guard with the gun over him in the bushes. He said he knew the men went for gas because they had called the man who was guarding him to ask him how to open the gas tank, "because the cable na work, it seize."
He said at first he refused to explain how to open the tank, but was forced to after the man with him fired another shot.
However, Sookchan said, the duo never returned with the car and after waiting with him in the bushes for over two hours, the man, "say he fed up wait and get passion and gone."
Meanwhile, when asked, Sookchan said he obtained his licence, which was left in the car along with his Samsung Galaxy S5 phone, about two weeks ago.
Stabroek News has since confirmed that Sookchan became a licence holder on November 18 in Linden.
Contacted, Commander of 'B' Division Errol Watts told Stabroek News that the police are currently on the hunt for the car and all of the police stations in the division have been alerted as well as the Berbice River bridge.
Around the Web