First Lady, Sandra Granger yesterday held a graduation ceremony to mark the conclusion of a one-month Instruction on Table Management and Menu Planning course for the staff at State House.
A release from the Ministry of the Presidency said that the course was a collaboration between the Office of the First Lady and the Guyana Defence Force (GDF). It saw 16 staff members being certified in hygiene rules, table etiquette, menu planning, hospitality, constituents of food and food groups, and the use of the "multimix" principles.  This capacity building exercise was conducted from November 9-December 9, 2016 and is the first of several training opportunities that the First Lady plans for staff members, the release said.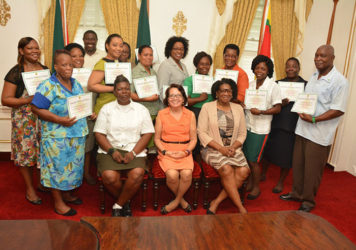 Mrs. Granger said "I believe persons must constantly upgrade their skills. Nobody is going to be forced to take part but we're going to have discussions early in the year about what the staff think they might benefit from and we'll see how we can provide short courses with recognised certification as we go along".
The First Lady noted that confidence comes with qualifications.  "I [always] encourage the staff to take opportunities for training… This will help them to be much more confident when they go about socially, when they do their jobs and give them the kind of skills that they need to take them through life. I also believe that the learning experience helps to build friendships… and this will add to the spirit of the staff of State House," she added. The First Lady thanked the GDF, for affording her the ability to make this course available. "The Chief of Staff of the Guyana Defence Force, [Brigadier] George Lewis very kindly agreed to provide us the service of [Warrant Officer] Weslyn Boodie, who trains staff in the GDF and she very kindly came along and conducted the course," Mrs. Granger said.
Members of staff praised the First Lady's initiative, the release said. Lance Corporal Melinda Jones, who is assigned to Kitchen duties, stated that though the course was a bit challenging for her she has learnt a lot.  Custodian at State House, Jacqueline Dowlin said, she looks at the First Lady's initiative as a way of equipping her staff with much needed confidence. "It is a very good idea especially for me. They say you're not too big to learn and I am not too big… One of the things that I like about her is that she motivates you; encourages you to go ahead, not because you're here for one thing means you can't do more, but you can go ahead and do something more. I really appreciate it [all]," Dowlin said.
Kelvin Harris, Driver at Office of the First Lady, said though he did the course before at Carnegie School of Home Economics he wanted to reapply some of the skills he learnt.
Around the Web