President David Granger on Monday handed over a 30-seater bus for use by schoolchildren in the Upper Demerara community of Kwakwani and nearby areas under his 'Five B's' programme.
A release from the Ministry of the Presidency said that the bus which was commissioned at the Kwakwani Independence Square, is the fourteenth one donated under the `Boats, Buses, Bicycles, Breakfast and Books' programme and will serve approximately 100 school children and three schools.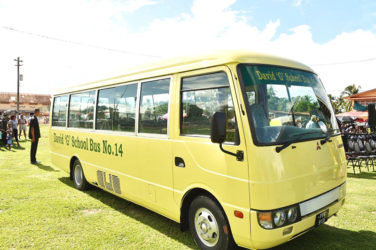 "We would go into every river and creek, every highway and byway to provide bicycles and buses and boats for every child to go to school…  This bus is about equality, to ensure that every Guyanese child has an equal opportunity to get to school. I am opening a window of opportunity for you to become better than your parents and your grandparents were. You could go to school and after you leave school and not only develop your country and community but yourself.
This bus is a vehicle to take you from poverty to prosperity; from ignorance to education. [It is] a means of self-emancipation to ensure that you can have long and productive lives right here in this region," the President told the residents at Kwakwani to loud applause, according to the release.
Regional Chairman Renis Morian, said that every action taken by the President to remove  the barriers to education is appreciated by the region and will go a long way towards improving the lives of parents and children. "This is a tremendous blessing to the people of this region and most pointedly to Kwakwani.
What I like most is that the President came here. So today we are happy to see that he not only makes promises but he makes it a reality. This is a positive step for the children of Kwakwani,"  Morian said.
Speaking just hours before at a Christmas party at the Calcuni Primary School for almost 400 children, the President vowed to ensure that every child across the country can one day enjoy easy access to education.
"I am going to work for you. Every child has to have an opportunity of equality and equality is the basis of my philosophy. I believe that people must be equal but you cannot be equal if some people are educated and some are not; if some people are rich and some are poor or if some can get jobs and some [cannot].," he said.
Last month, the President had also pledged $1M to the Parent Teachers' Association  of the Kwakwani Primary School to help improve the conditions under which students and teachers are currently forced to work.
The release said that Region Ten has now benefited under the Five 'Bs' programme from two buses, along with two boats and over 100 bicycles.
Around the Web