PORT OF SPAIN, Trinidad, CMC – A High Court judge will rule on June 17 whether to allow the United States government to be included as an interested party in the law suit filed by former FIFA vice president and CONCACAF strongman, Jack Warner, who is challenging his extradition to that country to face corruption charges.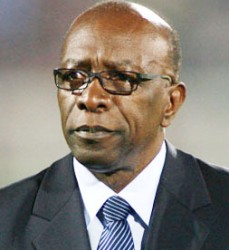 The 72-year-old Warner was one of 14 current and former football officials named in a 47-count indictment – laid in a New York federal court last year May by the US Department of Justice – relating to racketeering, wire fraud and money laundering conspiracies.
Warner is currently on TT$2.5 million (US$ 331 428) bail following his first court appearance on May 27 last year.
Justice James Aboud on Friday heard submissions in the matter where British Queen's Counsel James Lewis, who is representing the US interest, argued that Washington should be granted permission as it stood to be affected the most by the eventual outcome of the case.
In his lawsuit, Warner asked the court to declare Attorney General Faris Al-Rawi's decision to sign off on his extradition last September, as unlawful.
Warner's lawyers have claimed that Al-Rawi acted unfairly as he failed to give their client an opportunity to respond to the US's extradition request before making his decision.
"These proceedings are a challenge for the extradition proceedings themselves. It will be nothing but an advantage to this court to hear the applicant on the extradition itself," Lewis said.
He said that while attorneys representing Al-Rawi's office were defending his decision, they would not be in a position to provide the court with information on the US's extradition request, about which Justice Aboud would need to make a final decision.
Lewis argued that the US government, as the requesting state in the extradition proceedings, were the 'prosecutors' in the matter and had 'locus' (or a right) to be heard in Warner's challenge of the Authority To Proceed (ATP) which was signed by the Attorney General giving the Chief Magistrate the go ahead to begin committal proceedings.
"There is absolutely no doubt we are affected," Lewis submitted, arguing "the court can be misled if we are not here to make representations".
But Warner's lead attorney, Fyard Hosein SC, said the Civil Procedure Rules (CPR) required that an interested party prove that it was sufficiently affected to become a party to the proceedings as opposed to being merely directly affected.
He told the court that the challenges raised by Warner impacted domestic law, not international law.
"No foreign government has common law right to approach any court in extradition proceedings save and except where it is given the statutory authority to do so," Hosein said.
"You need statutory power to intervene," he said, adding that the US in its application to be heard had not raised any conflict with having the Attorney General representing its interests.
Warner's legal battles continue even as his two successors, CONCACAF president, Jeffrey Webb and Alfredo Hawit, are set to be sentenced next month, following guilty pleas to similar corruption charges.
Webb, a Caymanian, was arrested in a pre-dawn raid by Swiss law enforcement in Zurich last year May and subsequently extradited to the US where he had been named in the same indictment as Warner.
He pleaded guilty last December and has a sentencing date of June 7.
Honduran Hawit, Webb's interim replacement, was also arrested after just six months in the top post and last month also pleaded guilty to racketeering conspiracy, wire fraud conspiracy and conspiracy to obstruct justice.
Last Thursday, CONCACAF entered a new era when the confederation elected Canadian Soccer Association chief, Victor Montagliani, as its new president.
Around the Web