The Hikers Hockey Club will stage its annual two-week hockey camp from Monday to August 6th, at the St. Stanislaus College, Brickdam.
The Camp is open to children between the ages of 6 and 16 years and will be sponsored by Pepsi.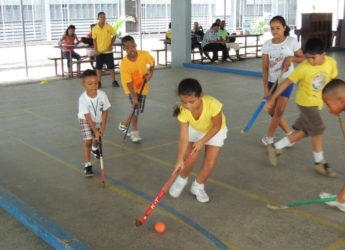 Training sessions will take place daily from Monday to Friday with the participants divided into two categories beginners, coached from 9:00 to 11:00am, and intermediates, from 11:00 a.m. to 1:00pm.
The camp will end with a mini tournament where participants will be given the opportunity to showcase their skills.
Robert Fernandes, Junior Development Co-ordinator of the Hikers Hockey Club has described the camp as vital to the club's development.
"This camp is the life-blood of the club. It not only gives youngsters the chance to experience the game for the first time,  it is also where our junior coaches develop their skills by giving back to the sport which has helped shape their lives," he disclosed.
Fernandes said the club conducted a coaching clinic for the advanced juniors who will be assisting during the camp and he was pleasantly surprised by the level of enthusiasm shown by the players to take up the challenge.
Meanwhile, the club has expressed gratitude to Demerara Distillers Limited under their Pepsi brand for sponsoring the camp.
Admission is free and parents and interested youths can register by calling 685-5003.
Around the Web