Guyana's Troy Doris yesterday failed to medal in the men's triple jump final at the Olympic Games in Rio De Janeiro, Brazil placing seventh from the eight man field.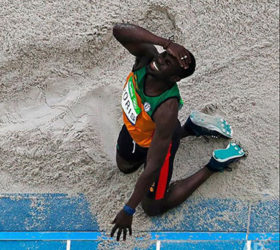 Doris, who committed three foul jumps ended with a jump of 16.90 metres. The event was won by defending champion Christian Taylor of the United States who retained his Olympic title with a jump of 17.86 metres at his first attempt. Another American Will Claye leapt 17.76 metres to take silver while China's Dong Bin went home with bronze after jumping 17.58 metres on his first attempt and failing to make a mark for the rest of the competition.
Doris, the national men's triple jump record holder, participation in the men's triple jump final, brought the curtain down on Guyana's participation at the games, the first to be held in South America.
Men's triple jump final results
(Gracenote) – Olympic athletics men's triple jump final result in Rio de Janeiro yesterday. 1. Christian Taylor (U.S.) 17.86 metres 2. Will Claye (U.S.) 17.76 3. Dong Bin (China) 17.58 4. Cao Shuo (China) 17.13 5. Jhon Murillo (Colombia) 17.09 6. Nelson Evora (Portugal) 17.03 7. Troy Doris (Guyana) 16.90 8. Lazaro Martinez (Cuba) 16.68 9. Alberto Alvarez (Mexico) 16.56 10. Benjamin Compaore (France) 16.54 11. Xu Xiaolong (China) 16.41 12. Karol Hoffmann (Poland) 16.31.
Around the Web