PORT OF SPAIN, Trinidad, CMC – West Indies head coach, Phil Simmons, has defended Darren Bravo's form in the recent series against India, contending the marquee left-hander had been forced to take on the mantle of senior batsman without the advantage of having learnt from experienced players.
Bravo struggled through the series, averaging a meagre 19 from seven innings which included a single half-century.
Simmons said while Bravo was West Indies' frontline batsman, he had suffered from not having played alongside veteran players in his early years in the squad.
"We talk about Darren Bravo and we talk about him a lot because we can see his potential and where he's supposed to be right now," Simmons said.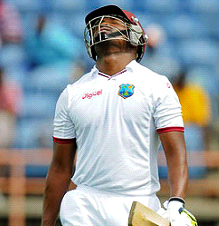 "But you look at the all the people around his age and what they've come through and the help they've had in the team when they came in.
"You talk about Virat (Kohli) – when Virat came in, look at the players around him and that's where you get your little bit of experience and help from.
"Bravo has had to turn up and be the senior player and I think sometimes that affects people but no doubt about it, he's working extremely hard on trying to get his game together and trying to score runs as he did when he first came into the team."
Bravo made his debut in a side which included veterans Shiv Chanderpaul and Chris Gayle, neither of who are no longer in the set-up.
During the recent series, West Indies not only struggled with Bravo's lack of runs but with the form of Marlon Samuels, as the experienced Jamaican averaged only 25 and managed one half-century.
Now age 35 and in the twilight of his career, there have been rumours of an imminent retirement but Simmons said he remained a part of the Test set-up but was obviously coming under pressure from other young batsmen in the team.
"His Test career still stands there. They (younger players) are pushing him which is nice because before when you had people pushing you from outside, you either get pushed out or you lift you game," Simmons explained.
"I think it's a case where you have youngsters pushing him now and that's good for the team. It's the same thing with Shannon (Gabriel) with a few young fast bowlers coming out.
"You need that second team that's up to the standard to push people so they continue to produce. The great West Indies team had that, the great Australia team had that so that's what we need here."
Around the Web