ROSEAU, Dominica, CMC- President of the Dominica Olympic Committee (DOC), Felix Wilson, has denied wrong doing after the local Olympic organisation received a "serious warning" from the International Olympic Committee (IOC) accusing it of breaching a Ticket Sales Agreement.
Wilson has rejected IOC claims that the DOC is in violation of the agreement regarding ticket sales for the recent Olympics Games in Brazil.
IOC's letter, signed by its Director General Christophe De Kepper, accused DOC of granting access to the ticket programme to persons not authorized by Rio 2016.
"The IOC has been made aware of a number of issues in relation to the international ticketing programme for the games of the XXX1 Olympiad in Rio in 2016," the letter from De Kepper stated.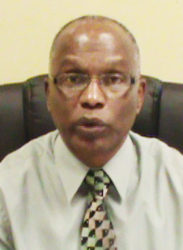 "In particular, it has been drawn to the attention of the IOC, by the Rio 2016 Organising Committee, that the National Olympic Committee of Dominica (DOC) did not respect the terms and condition of the Ticket Sales Agreement and was in breach of the IOC Code of Conduct."
The IOC states its letter to the DOC "constitutes a serious warning" which will be considered in the future and urged also urged DOC to bring its management in line with the principles of the Olympic Charter.
"The elements brought to the attention of the IOC clearly highlight a lack of transparency and good governance, within the DOC as they show that access to the Ticketing Programme was provided to a person unauthorized by Rio 2016" stated the IOC letter, leaked to the local media.
But in an interview with Dominica News Online, Wilson said the IOC's letter is misleading, since, according to him, it gives the impression that tickets were sold to the Rio Games on the behalf of the DOC.
"Absolutely no tickets were sold by the DOC for the Rio 2016 Games," Wilson said, adding "nobody sold tickets on the behalf of the DOC."
Wilson explained that before an Olympic event, the DOC, like all Olympic Committees around the world, would sign an agreement for ticket sales.
He said a company called World Sports Hospitality, nominated to sell tickets on DOC behalf, was rejected by the Organising Committee.
"We duly informed the Organizing Committee that we haven't got the capacity, which involves the money, we also made mention that the small population cannot rally enough persons to go to the Rio Olympics and on top of that the Zika is a deterrent," Wilson recalled.
"We got a response that it is okay from the Organizing Committee that you are no longer obligated to sell tickets or you will no longer be selling tickets, which is what transpired."
The DOC has planned an emergency meeting for tomorrow to discuss the contents of the IOC's letter.
Around the Web