Food for the Poor (Guyana) Incorporated recently donated a quantity of cricket gear to the Maltenoes Sports Club (MSC) Youth Cricket Academy.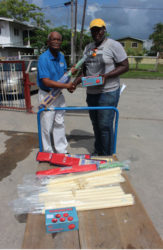 The equipment, which includes bats, balls and stumps will be used by the participants of the academy which commenced August 22 at the club's Thomas Lands facility.
Public Relations Manager of Food For The Poor, Wayne Hamilton, said that the organization was committed to assisting in the development of all sports in Guyana as far as possible.
He added that it was his hope that the youths took advantage of the opportunities afforded them in the programme and to listen carefully to the coaches and facilitators whilst striving to enhance further, the development of the sport in Guyana.
In reply, Joel Alleyne, a member of the MSC senior cricket team, thanked the organization for the donation which he said would go a long way in assisting the youngsters in the programme in their cricket development.
Around the Web