Distance athletes get ready, the annual Courts (Unicomer Guyana Inc.)10km road race billed for September 25 was launched yesterday at its Main Street head office with lucrative cash prizes on offer.
The sixth running of the event will have in excess of $2M budgeted for the top finishers and logistics.
During the launch, president of the Athletic Association of Guyana (AAG), Aubrey Hutson noted that he was pleased to see Court's continued support of the calendar event. He also urged athletes in the outlying areas to make urgent contact with the AAG in order for the necessary arrangements to be made for accommodation in the city.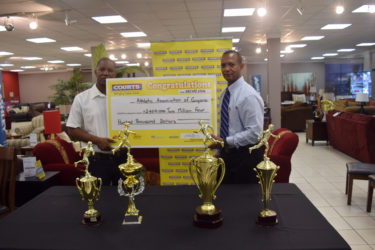 "Athletes we are working with the NSC on getting you housing, so make contact with us early so we can make the necessary arrangements."
Marketing Manager of the furniture giant, Pernell Cummings stated that he is looking forward to seeing Guyana's best athletes performing as Courts does their part in helping to develop the discipline.
"It is part of our corporate social responsibility to help develop sport and we want to further develop athletics in Guyana," Cummings said. Cummings also encouraged fitness enthusiasts, gym rats and casual runners to participate in the fixture. "Let's run for fun, for health and for fitness" proposed Cummings.
The winners of the open male and female categories will pocket $100,000 each, while the immediate runners up will take home $75,000, $50,000, $30,000 and $20,000 respectively.
The fixture which is expected to attract the usual suspects, Cleveland Forde, Winston Missigher, Cleveland Thomas, Alika Morgan, Andrea Fortune and Euleen Josiah-Tanner, will run off at 06:00hrs in front of Courts. Athletes are urged to register at the Guyana Olympic Association headquarters in Kingston no later than September 23. See you there.
Around the Web