Guyana's male chess team rebounded from their round six defeat to score a win over Bermuda in seventh round action of the 42nd Chess Olympiad in Baku, Azerbaijan yesterday.
Coming up against Bermuda, whose players were all unrated, Guyana rested Anthony Drayton and brought in Roberto Nero for his second game.
They also moved Taffin Khan from board two to board one and Greenidge from board three to board two.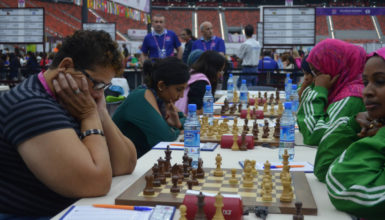 The move worked as both Khan and Greenidge won their matches and though Haifeng Su surprisingly lost his board three match Nero drew on board four to help Guyana win the tie.
Khan got past Serguei Gontcharov, Greenidge beat Sami Lill, Su lost to Mark Flanagan and Neto drew with Don Dacres.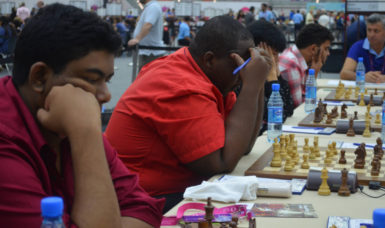 The men's team, which plays Barbados today, now has two wins, one draw and four losses, from their seven matches.
In women's action, Guyana went under to Sudan by one and a half points to two and a half with Maria Varona-Thomas the lone winner.
Varona-Thomas beat Ahmed Mohamed Najwa on board one, Yolander Persaud lost to Eyhab Rawan on board two, Sheriffa Ali drew with Mohammed Ibtihal
On board three and Julia Clementson lost to Mansour Mustafa Zieban on board four. Next up for the Guyanese women is Zambia
After seven rounds the women's team has one win, one draw and five losses.
Around the Web