DUBAI, United Arab Emirates, CMC – West Indies suffered their second batting meltdown in the space of 48 hours as they slumped to a 16-run defeat to Pakistan in the second Twenty20 International here yesterday, to meekly surrender the three-match series.
Asked to chase 161 for victory at the Dubai International Stadium, the Caribbean side looked anything but reigning World champions as they inexplicably collapsed to 144 for nine off their 20 overs, to suffer their second straight loss of the series following a similar disappointing outing on Friday.
Sunil Narine saved some face for the Windies with a cameo top score of 30 off 17 deliveries batting at number nine while Andre Fletcher chipped in with 29 but his was a pedestrian knock that required 37 balls, and fell far short of what was required.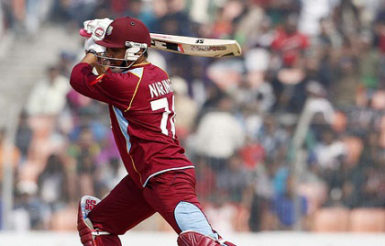 West Indies were ripped apart by left-arm seamer Sohail Tanvir who snapped up three for 13 in a brilliant four-over spell and was supported by rookie speedster Hasan Ali who finished with three for 49.
Captain Sarfraz Ahmed had earlier guided Pakistan up to a challenging 160 for four off their 20 overs when he top-scored with a Man-of-the-Match, unbeaten 46 off 32 deliveries.
Sent in, Pakistan also benefited from opener Khalid Latif's knock of 40 off 36 balls and the experienced right-hander Shoaib Malik's invaluable 37 off 28 balls.
Sharjeel Khan fell cheaply for two at four for one in the third over when he dragged on to leg-spinner Samuel Badree, but two half-century stands then repaired the innings and propelled the hosts to the highest-ever total at the ground.
Latif struck three fours and a six as he added 54 for the second wicket with Babar Azam who scored 19, while Sarfraz and Shoaib combined in a 69-run, fourth-wicket partnership which took the game away from West Indies.
Sarfraz produced a controlled innings, striking five fours and running sensibly between the wickets with Shoaib who counted three boundaries and a six before holing out in the deep in the final over.
Any hopes West Indies had of re-discovering their World Cup-winning form were quickly dashed as they slumped to 19 for three in the sixth over, with Sohail picking up two of the wickets to fall.
Johnson Charles (10) picked out Umar Akmal at long on off left-arm spinner Imad Wasim with the score on 12 in the third over and Evin Lewis was taken at slip by Sharjeel for three, edging a booming back foot drive at Sohail in the following over with just three runs added.
When Marlon Samuels nicked Sohail behind to depart for one in the sixth over, West Indies were floundering.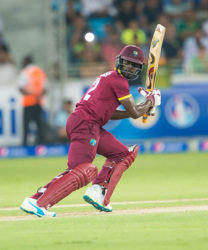 Fletcher then anchored two stands, adding 26 for the fourth wicket with Dwayne Bravo (18) and a further 37 for the fifth wicket with Kieron Pollard (18). Neither stand proved threatening, however, as none of the three players were afforded the freedom to score quickly.
Bravo was eventually befuddled  and bowled by one from Nawaz which came on with the arm in the 10th over and Fletcher could only gather a single four and a six before his hard grind ended when he missed a heave and bowled by Hasan Ali at 82 for five in the 15th over.
By then, the required run rate had climbed to nearly 15 runs an over and the pressure told as Fletcher's dismissal saw three wickets tumble for seven runs in the space of 10 deliveries.
Pollard edged a slower-ball bouncer behind off Hasan Ali and in the next over, left-hander Nicholas Pooran held out to long off with Sohail for four.
Collapsing at 89 for seven in the 16th, Narine energised the innings by belting four fours and a six, posting 30 for the eighth wicket with captain Carlos Brathwaite (8) and 25 for the ninth wicket with Jerome Taylor (10 not out).
Brathwaite and Narine combined to take 15 runs from the 17th over sent down by Hasan Ali and another 14 runs from the 18th bowled by seamer Wahab Riaz, handing the visitors the smallest of lifelines.
But once Brathwaite deposited Hasan Ali into Umar Akmal's lap at long on at the start of the 19th over with 42 runs still required, any remaining hope disappeared.
The third and final game is set for Abu Dhabi on Tuesday.
SCOREBOARD
PAKISTAN
Sharjeel Khan b Badree                                 2
Khalid Latif run out                                      40
Babar Azam c Pollard b Brathwaite           19
Shoaib Malik c Pollard b Bravo                   37
*+Sarfraz Ahmed not out                            46
Umar Akmal not out                                     1
Extras (lb10, w5)                                          15
TOTAL (4 wkts, 20 overs)                         160
Did not bat: Mohammad Nawaz, Imad Wasim, Wahab Riaz, Sohail Tanvir, Hasan Ali.
Fall of wickets: 1-4 (Sharjeel Khan, 2.2 overs), 2-58 (Babar Azam, 8.1), 3-85 (Khalid Latif, 11.4), 4-154 (Shoaib Malik, 19.2)
Bowling: Badree 4-0-24-1 (w1), Taylor 4-0-28-0 (w2), Narine 4-0-36-0 (w1), DJ Bravo 4-0-38-1 (w1), Brathwaite 4-0-24-1.
WEST INDIES
J Charles c Umar Akmal b Imad Wasim                  10
E Lewis c Sharjeel Khan b Sohail Tanvir                   3
+A Fletcher b Hasan Ali                                               29
M Samuels c wkp Sarfraz Ahmed b Sohail Tanvir   1
DJ Bravo b Mohammad Nawaz                                   18
K Pollard c wkp Sarfraz Ahmed b Hasan Ali              18
*C Brathwaite c Umar Akmal b Hasan Ali                  8
N Pooran c Mohammad Nawaz b Sohail Tanvir         4
S Narine c Umar Akmal b Wahab Riaz                       30
J Taylor not out                                                              10
Extras (w7, nb6)                                                             13
TOTAL (9 wkts, 20 overs)                                         144
Did not bat: S Badree.
Fall of wickets: 1-12 (Charles, 2.3 overs), 2-15 (Lewis, 3.4), 3-19 (Samuels, 5.3), 4-45 (Bravo, 10), 5-82 (Fletcher, 14.2), 6-83 (Pollard, 14.5), 7-89 (Pooran, 16), 8-119 (Brathwaite, 18.2), 9-144 (Narine, 20)
Bowling: Imad Wasim 4-0-18-1, Sohail Tanvir 4-0-13-3 (w1), Mohammad Nawaz 3-0-19-1, Shoaib Malik 1-0-3-0, Hasan Ali 4-0-49-3 (w2), Wahab Riaz 4-0-42-1 (w4, nb2).
Result: Pakistan won by 16 runs.
Series: Pakistan lead three-match series 2-0.
Man-of-the-Match: Safraz Ahmed.
Toss: West Indies.
Umpires: Ahmed Shahab, Shozab Raza; TV – Ahsan Raza.
Around the Web