From Donald Duff in New York
Defending world champion Magnus Carlsen of Norway had stated on Sunday that the series of drawn games was at an end.
However, he did not see himself emerging as the loser. But that's just what happened.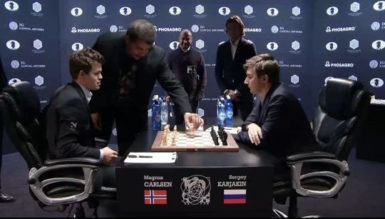 Challenger Serjey Karjakin of Russia, yesterday took the lead in the 12 match series for the world title, when he defeated the champion in a match that lasted 51 moves in the Fish Tank, at the Fulton Market Building, South Street, Seaport, Manhattan, New York.
"I feel great," Karjakin said after the match, while a disappointed Carlsen refused to speak to the media, and failed to attend the post game press conference.
Karjakin now has four-and-one half points to Carlsen's three-and-one half. The winner will be the first person to reach six-and-one half points.
The two players had battled to seven straight draws before yesterday's game, equaling the record for drawn games at the start of a world championship title match, jointly held by Anatoly Karpov and Victor Korchnoi in their 1978 series, and Garry Kasparov and Vishy Anand in their 1995 clash.
"It's quite normal that games end in a draw, even when there is a fight, but it is unusual that every single game has been drawn, but I don't necessarily think that it will happen from now on, but we'll see," Carlsen had said after Sunday's game.
Little did he know how right he would be.
Carlsen had the white pieces for the fourth time in the series, and like he did in game one, played d4 to which Karjakin played Nf6, but instead of the Trompovsky variation which was played in the first game, this game was a variation of the Queen's Pawn opening.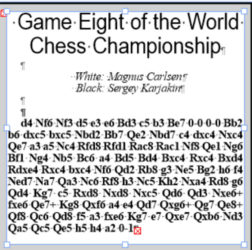 Once again, the players played the opening moves quickly, and by move six, both players had already castled kingside. After move 11 c4, there was an exchange of pawns which subsequently opened up the c and d files, which were then occupied by the rooks of both players.
However, while Carlsen's attack was centered on the queenside, Karjakin's two bishops and the knight on g4 were all aiming at Black's defenceless kingside, made so by White's decision to place his two knights in the centre.
White's 21st move, bd4, can be considered the turning point of the game, for after Bxc4, Rxc4, Bxd4, Rdxe4 and Rxc4, White played bxc4 instead of Rxc4, which would have allowed him to keep his two pawns on the queenside connected.
It was to prove costly as Black was able to create a passed pawn on the a-file which White was unable to stop.
The move also allowed Black to capture White's pawn on the a file a few moves later, leaving Carlsen a pawn down.
And even though Carlsen did win back the pawn in the endgame, and was even a pawn up, (Queen, bishop and three pawns to Queen, knight and two pawns for Black) Black's passed pawn on the a file proved the key, with White resigning after Black played a2, threatening mate in two or three moves if White played Qxa2.
"The game was very tense, and at some point Magnus overestimated his position. He got into time trouble after the time control," said a jubilant Karjakin.
The ninth game is set for tomorrow.
Around the Web