PORT OF SPAIN, Trinidad,  CMC – Rookie left-hander Isaiah Rajah believes his half-century on first class debut will do a lot for his confidence, as he seeks to carve out a successful career for Trinidad and Tobago Red Force.
The 23-year-old left-hander stroked 69 last Saturday in the rain-ravaged third round game in the Regional Four-Day Championship against Leeward Islands Hurricanes which finished in a draw at Queen's Park Oval here.
"The runs to my name [will give me] a lot more confidence going into the season and I think it is a booster for me as a youngster so the half-century is there and it is just to carry on from here now." Rajah told the NewsDay.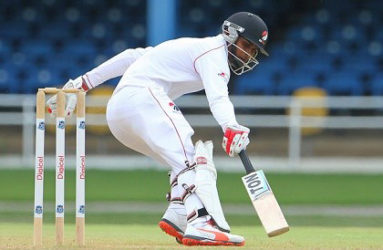 "To get to that landmark [century] is a big achievement on debut especially. [I got] 69, falling short but at the end of the day you are still thankful for going out there
Opener Isaiah Rajah completes a run during his half-century against Leeward Islands Hurricanes in the third round of the Regional Four-Day Championship. (Photo courtesy WICB Media)
"It is a team effort with myself and Kyle Hope getting a 162-run partnership without losing a wicket is another achievement for a debutant myself. To get to the triple that would have been another landmark for me but I am still thankful for the half century."
Rajah cut a confident figure at the crease as he and Barbadian opening partner Hope engaged in a superb partnership for the first wicket.
The son of former first class batsman, Aneil Rajah, Isaiah stroked 11 boundaries in an innings spanning 161 deliveries and a shade over three hours.
And while his ultimate goal is to play at the highest level, Rajah said he was under no illusions about the consistency in run-scoring required in order to achieve that goal.
"As any youngster, you would always have that aspiration but it doesn't come just like that," he explained.
"You have to work hard and put in extra hours. It is a matter of consistency at this level, being around the TT team, around the setup, trials.
"It is always a good landmark to reach here but consistency is a key as to continuing to that next level. To get to there you have to put in the work."
Around the Web