Western Tigers earned their first win in the Turbo Energy Drink/Fruta Conquerors U19 Academy League, squeaking past Order and Discipline 3-1, yesterday at the Tucville Community ground.
Omally Sampson separated the two teams, as he found the back of the net in the 23rd minute. Racing into the centre of the box, Sampson slotted home unchallenged, after collecting a right side pass from Shane Morris.
Morris then increased their lead in the 68th minute, etching his name on the scorer's sheet in a sublime manner. Racing past two markers, while cutting in from the left side of the field, Morris unleashed a thunderous right foot strike which settled into the right corner.
Order and Discipline eventually pulled one back, as Alister Bentick scored four minutes onward, latching onto a poorly punched clearance by the goalkeeper inside the left side of the box, before blasting the ball into the top right corner.
However, Morris settled the outcome in the 78th minute, curling the ball into the empty net from the centre of the field, 25 yards out, after the goalkeeper had raced off his line and cleared the ball directly into his path.
Further misery was heaped on Order and Discipline, as they were reduced to 10 men after Wayne Miller picked up his second yellow card, in the 81st minute.
As a result, Western Tigers climb into the second position on four points. Order and Discipline are yet to get off the mark, and remain in the cellar position. Action continues on Saturday at the same venue with a tripleheader.
At 12:00hrs, Order and Discipline will oppose Black Pearl, while Botofago will lock horns with Eastville from 14:00hrs. In the final fixture at 16:00hrs, Fruta Conquerors tackle Uitvlugt.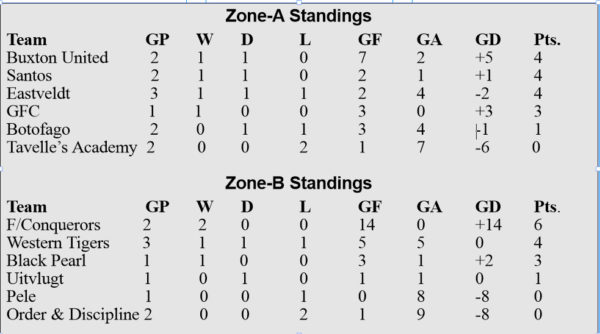 Around the Web