The initiators of STEM-Guyana are currently preoccupied with a new pursuit that involves pitting an ambitious but inexperienced ten-member team from Guyana against experienced and highly talented international opponents in an international robotics competition in Washington DC in July this year. Five students and two adults will travel from Georgetown while the remaining members of the team will come from the USA.
Lead coordinator for the STEM-Guyana project Atlanta-based Guyanese Karen Abrams whose initiatives to upgrade local children's understanding of and appreciation for robotics has been well-received told Stabroek Business in an interview on Wednesday that it was a bold move that would test the interest of the Guyanese participants in the competition. "By any measure this is an ambitious undertaking for a team with only limited exposure to robotics," Abrams said.

The children who will be travelling to Washington for the event were only recently exposed to robotics during a series of technology summer camps offered in Buxton, Lusignan and Georgetown during the summer of 2016. "To be sure, the Guyanese youngsters will be competing against young people of varying levels of robotics experience from 150 countries around the world, some of whom have been exposed to robot-building and programing all their lives. Others, like Team Guyana, are simply enthusiastic and motivated novices," she noted.
Abrams, who along with her three children organized and executed last year's summer camp said, however, that despite its lack of experience, Team Guyana's members are "keen, hungry and brilliant" and determined to represent Guyana well at the event, titled the First Global Games, in Washington DC.
The Guyana team will include students from the University of Guyana, the Government Technical Institute, the Kuru Kuru Training College and graduates of the STEM-Guyana robotics camp.
Abrams told Stabroek Business that preparations for the "Washington mission" are well supported by various local public and private entities, including the Department of Sport, which has made the Cliff Anderson Sports Hall available for the practice sessions. She named the Office of First Lady Sandra Granger, the Minister of Public Telecommunications and the Minister of Education as sponsors and supporters of the event. "The efforts of the First Lady have been of considerable help in our pursuit and the Ministry of the Presidency has also provided support," Abrams said.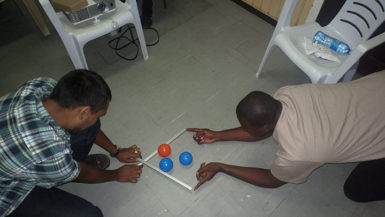 On the private sector side, Abrams said, "our Diaspora partners have already contributed financially to the team and fundraising efforts continue." Locally, she said that support had already been received from local ICT companies Cyber Solutions and Intellect Storm. "We are in discussions with other local companies that understand the importance of our mission and the impact that technology will have on the future development of Guyana," Abrams said.
Commenting on the broader mission of STEM-Guyana Abrams said that its mission was "to work with public, private, local and Diaspora entities to prepare a huge resource of local experts in Robotics, Artificial Intelligence, and Virtual Reality, in Guyana over the next ten to fifteen years. These experts are mostly teenagers today but we expect that these young people will solve problems using technology to tackle challenges facing people living in the Southern and Northern hemispheres."
Asserting that Guyana will quickly arrive at a point where technology, including robotics will become "a development game-changer" Abrams asserted that "many businesses in Guyana today simply won't exist in ten years if they don't engage, invest and embrace technology. These young people will create the companies of the future in Guyana."
The team's Coach is Computer Science Engineering Graduate Ricky Chan, while UG Robotics Club President and Computer Science Major Farnaz Baksh is the team's Manager. The team's Operations Support lead will be Jeannette Frank, while IT industry Technical and Management experts like Aggrey Dillon Marsh, Ryon Persaud and Ronson Gray have volunteered their time to make sure the team's structure, strategy and operations are efficient.
Comments

Investment proposals in several sectors of the Guyana economy were facilitated by GO-Invest last year.

Cevons Waste Management and Puran Brothers have won the full backing of much of the private sector.

The country's remaining standing mangrove forests are continually under threat from "a range of natural and man-made factors".

A leading UK-headquartered market research firm, Technavio, is predicting that from 2016 and up to 2020 the projected growth of the global coconut water market is likely to be close to a whopping 27 per cent.

Nothing, she says, pleases her more than the modest achievement of Team Guyana at the recent international robotics tournament in Washington and the occasion it afforded for a celebration at home.