STEM Guyana, the local science and technology body which, earlier this year coached a rookie Guyana team to a creditable and entirely unexpected tenth place finish at the first ever Global Robotics Competition in Washington, DC has announced that it will shortly be launching three Science, Technology, Engineering and Mathematics (STEM) Leagues in Guyana.
Earlier this week STEM Guyana Coordinator Karen Abrams told Stabroek Business  that the body will be collaborating with the Dean of the Technology Faculty at the Medgar Evers College, Dr. Terrence Blackman,  the Office of the First Lady of Guyana, the National Centre for Education Research and Development (NCERD) of the Ministry of Education and various private sector organizations  to launch what she said would be a competitive League in Mathematics, Robotics and Scratch Coding for students across Guyana.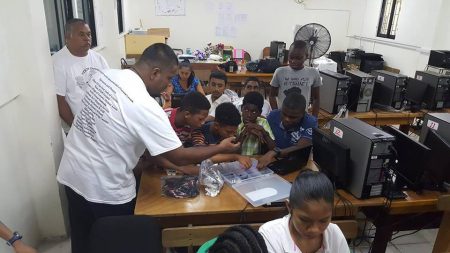 During a telephone conversation from her Atlanta home on Wednesday evening Abrams told Stabroek that STEM GUYANA had decided that it was time to "step up its programme to provide training for local children in disciplines that bear a direct relevance to the developmental direction in which Guyana is heading. I believe that we have reached a point where we simply must begin to move beyond the curriculum that we have been dealing with over the years," Abrams said.
Abrams told Stabroek Business that the new League represents "a logical step forward" following what she said was a "surprising but hugely satisfying experience" at the Washington tournament.  "Our members have not been resting on their laurels. We have a clear vision to bring technology education to students across Guyana. We want to bring the same coding, mathematics and robotics skills sets from which students all across the developed and developing world continue to benefit; to every young person in Guyana who has access to the internet," Abrams said.
Dr. Blackman told Stabroek Business that initiatives like the STEM GUYANA League were critical to "the application of the mathematical sciences to understanding the world by performing formal symbolic reasoning and computation on abstract structures. Our dream is to provide young Guyanese with meaningful access to the world of understanding abstract structures and the empowerment that this provides."
Abrams said that she was delighted the STEM Guyana initiative had attracted the attention of Dr. Blackman and the Stanford and Cornell Universities and student-founded organization, k12youthcode.com. "These individuals and institutions can bring to the table the skills and know-how that we need to make our six weeks of STEM league competitions meaningful and exciting.
Championship title
The competition will be planned and executed among students in Guyana at the NDC and regional levels after which the winners will compete for a national championship title.
Abrams, who is due to arrive in the country shortly to support the planning process for the implementation of the League says that the real value of the programme is that it allows for students from across the country to  have the opportunity to participate.  "No particular level of skill is required because since all of the students will have prior access to tutorials and training," Abrams said. The League will target both primary and secondary school students and will be executed at two levels.  The competitions will last for six weeks and challenges will be released each week to students in Grades 1 through 3, Grades 4 through 6 at the primary levels and in Forms 1 through 3 and forms 4 through 6 at the secondary levels. The League will be open to both public and private school students, after-school lessons organizations, public and private clubs, church organizations and other organizations that provide services to young people. "We are encouraging all of those groups to field teams for the League," Abrams said.
According to the STEM GUYANA Coordinator much of the effort of the organization in the period ahead will be focused in disseminating information on the League and encouraging schools, youth groups and other organizations to field teams. "We expect that students will spend at least one weekend day each week focusing on research and contemplating responses to challenges."
Nation-building
Meanwhile, Abrams told Stabroek Business that while STEM GUYANA will be seeking financial support for what she describes as "a typical nation-building project" from both the public and private sectors, a decision had been taken that in order to kick off and  sustain the league, Coaches will be asked to contribute G$2,000.00 for IT Platform, Scratch and Robotics certification training, while parents will be asked to pay G$1,000.00 per player/student for six weeks of participation in the League.  Students will receive certificates and fun prizes at every level of competition. Abrams said that a Caribbean championship is being planned which will facilitate Guyana's participation in Robotics, Maths and Scratch programming.
Stabroek Business understands that the math aspects of the League will be overseen by Dr. Blackman and that NCERD will be collaborating with STEM Guyana to provide school level multi-disciplinary challenges in other subject areas including Science, Social Studies and English. Students will be required to engage in research in order to craft coding solutions, using the Scratch programme language.
Abrams says that she expects that in the initial stages participation in the robotics League will be limited since several groups will not have the necessary equipment to facilitate their effective participation. She says, however, that it is the expectation of STEM GUYANA that the business of equipment acquisition "will be met with a suitable response from both public and private sector agencies in Guyana which, we assume, are interested in supporting an initiative that is manifestly designed to take the country forward." She said that the success of the League will depend heavily on the pace at which Guyana can continue to roll out internet access to communities across the country. "Wherever the Ministry of Public Telecommunications provides access, students will be able to participate in the League."
And according to Abrams, effective management of an undertaking of this nature would not be possible without the services of a "fully automated IT Platform" which she envisages will be managed by STEM GUYANA partner, k12youthcode.com, a US-based league management company founded by a group of students at Cornell and Stanford Universities in the United States.
Abrams told Stabroek Business, meanwhile, that she believed that the advent of the League could have a positive effect on student results in mathematics and science. "Our aim is to ensure that Guyanese students have access to a curriculum that will prepare them to be critical thinkers."
Comments

Against the backdrop of what it says is its focus of creating further opportunities for the development of hinterland agriculture, government has disclosed in its 2018 budget an intention to allocate some $265 million to the design and construction of an agricultural centre and reservoir at Lethem and the upgrading of the existing agricultural research station at Ebini.

Fresh obstacles that threaten to block an official decision that taxes deducted from payments made to Bauxite Company of Guyana Inc.

Even as the proliferation of Chinese stores in downtown Georgetown continues to serve as evidence of the country's increasing prominence as the most visible trading presence in the hemisphere, Guyanese fashion designer Carol Fraser has told Stabroek Business that the local fashion industry can do much worse than look to China to accelerate the growth of the sector in Guyana.

Leisa Gibson is acutely aware of the likelihood that in a society where a   preoccupation with hair is now the focal point of women's fashion, her involvement in the sector, as a hairdresser for the past fifteen years and more recently as the manufacturer of natural hair and body products, may well be positioning  her for entrepreneurial success.

These days, Guyanese are no strangers to technology-assisted shopping…on line shopping is the appropriate term.