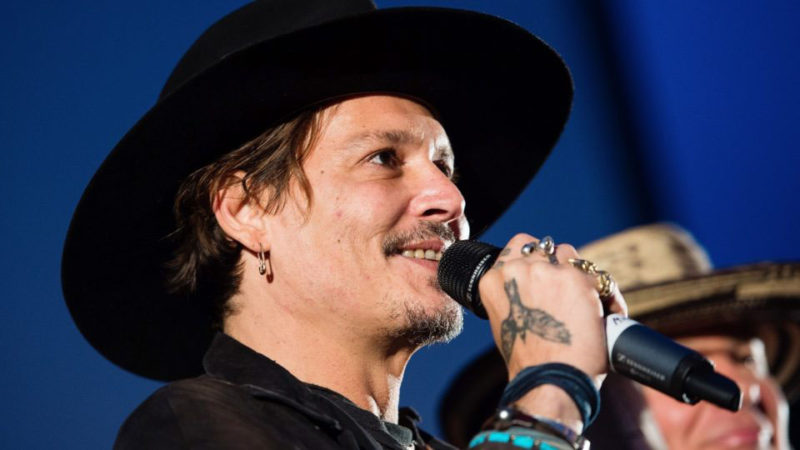 GLASTONBURY, England,  (Reuters) – Johnny Depp yesterday apologized for joking about assassinating U.S. President Donald Trump, saying his remarks were in "poor taste."
"The Pirates of the Caribbean" star spoke during an appearance at Britain's Glastonbury music festival on Thursday when he pondered how long it had been since an actor had killed a U.S. president.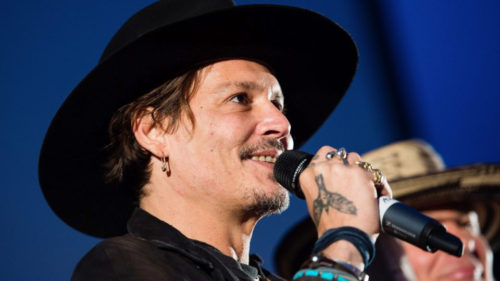 His remarks drew rebukes from Trump supporters, and the White House described Depp's remarks as "sad."
"President Trump has condemned violence in all forms and it's sad that others like Johnny Depp have not followed his lead," the White House said in a statement.
"I hope that some of Mr. Depp's colleagues will speak out against this type of rhetoric as strongly as they would if his comments were directed to a Democratic elected official."
Depp on Friday said his remarks were not intended maliciously.
"I apologize for the bad joke I attempted last night in poor taste about President Trump," Depp, 54, said in a statement. "It did not come out as intended, and I intended no malice. I was only trying to amuse, not to harm anyone."
Depp was at a screening of his 2004 film "The Libertine" at the Glastonbury festival when discussion turned to the topic of Trump. Depp said he thought the president "needs help."
"Can we bring Trump here?" Depp asked the audience. "… When was the last time an actor assassinated a president?"
Actor John Wilkes Booth assassinated U.S. President Abraham Lincoln in 1865.
"Now I want to clarify, I'm not an actor," Depp continued. "I lie for a living. However, it's been a while, and maybe it's time."
The U.S. Secret Service said it was aware of Depp's comments but had no other comment.
Some Republicans criticised Depp's comments as part of a grim trend.
"I'm sick of celebrities getting away with such disgusting comments," Ronna Romney McDaniel, the Republican National Committees chairwoman, wrote on Twitter.
Depp, whose latest "Pirates of the Caribbean" movie was panned by critics in May, has had more than a year of bad press following an acrimonious divorce from actress Amber Heard and a lawsuit against his former business managers that has detailed claims of lavish spending by the actor.
Earlier in June, Delta Air Lines and Bank of America pulled their sponsorship of a New York production of Shakespeare's "Julius Caesar" because the assassinated Roman ruler was portrayed as a Trump-like businessman.
Last month comedian Kathy Griffin posed in photographs holding up a fake bloody, severed head resembling Trump. She also apologized but was fired from hosting CNN's annual New Year's Eve broadcast.
Last week, a gunman opened fire on Republican lawmakers in who were practising for a charity baseball game.
Comments

LOS ANGELES,  (Reuters) – Dark comedy "Three Billboards Outside Ebbing, Missouri" won three prizes at the Screen Actors Guild (SAG) awards on Sunday in a ceremony marked by women and their stories amid the sexual misconduct scandal that has swept Hollywood.
LOS ANGELES,  (Variety.com) – Sony's "Jumanji: Welcome to the Jungle" has won its third weekend box office title with ease, topping newcomers "12 Strong" and "Den of Thieves," with $20 million at 3,704 North American locations.

LOS ANGELES, (Reuters) – Woody Allen's adopted daughter gave a tearful television interview yesterday, giving details of an alleged molestation by the filmmaker more than 25 years ago.

MUMBAI, (Reuters) – India's Supreme Court yesterday cleared the way for the release of a controversial Bollywood movie based on an epic poem about a 14th-century queen, a day after its producers went to court to fight bans by several states.

LONDON, (Thomson Reuters Foundation) – British-Indian sculptor Anish Kapoor donated $1 million to five charities working with refugees worldwide on Wednesday in a bid to alleviate a record-breaking global displacement crisis.