LOS ANGELES,  (Reuters) – Marvel and DC Comics superheroes may be battling for box office domination, but on the small screen, a little known blue superhero is offering up a satirical take on larger-than-life crusaders for justice.
"The Tick," a new Amazon Studios series premiering on Friday, follows the adventures of eccentric superhero The Tick, a man in a blue spandex suit with feelers sticking out of his head who has no memory of his own origins.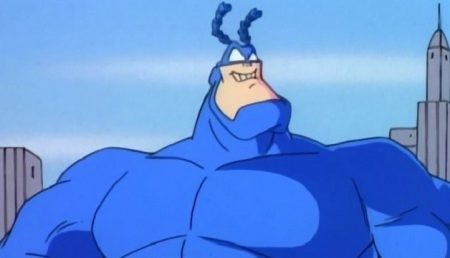 He and his bumbling sidekick Arthur fight incompetently against strange villains like Ramses IV, Ms. Lint, The Terror and Overkill, while encountering respected superheroes. "It's set in the real world where superheroes exist. I'm also a superhero, but even the superheroes think I'm weird," actor Peter Serafinowicz said in an interview of playing The Tick.
Superheroes have saturated Hollywood in recent years, including Disney-owned Marvel's 2008 action "Iron Man" and Warner Bros rebooting the DC Universe with Batman, Superman and Wonder Woman.
On television, shows such as "Gotham," "Agents of S.H.I.E.L.D" and Netflix's "The Defenders" have offered a more in-depth take on superhero stories.
The Tick, created by cartoonist Ben Edlund in 1986, has had two previous iterations on television, in a 1994 animated series and in a 2001 live-action series. The story has "always been in dialogue with whatever has been big in superhero pop culture at the time," said actor Griffin Newman, who plays Arthur.
Comments

LOS ANGELES, (Reuters) – "The Handmaid's Tale" and political comedy "Veep" won the top prizes at the Emmy awards on Sunday, but satirical sketch show "Saturday Night Live" won the most Emmys overall on the back of a season of Donald Trump spoofs.
LOS ANGELES,  (Reuters) – Satirical sketch show "Saturday Night Live' took the Emmys by storm yesterday, winning three early awards in a ceremony marked by multiple jabs at U.S.

TORONTO, (Reuters) – A documentary about the life of renowned guitarist Eric Clapton does not attempt to whitewash over the darker side of the hard-drinking musician's life, even though it is directed by his longtime friend, filmmaker Lili Fini Zanuck said Monday.

Harry Dean Stanton   (Reuters) – Harry Dean Stanton, whose scruffy looks and off-beat demeanor made him a favorite of directors seeking a character actor to add eccentricity or melancholy to the screen, died on Friday from natural causes, his agent said.

LOS ANGELES,  (Variety.com) – A disastrous domestic summer box office is ending on a low note.