LOS ANGELES,  (Reuters) – Marvel and DC Comics superheroes may be battling for box office domination, but on the small screen, a little known blue superhero is offering up a satirical take on larger-than-life crusaders for justice.
"The Tick," a new Amazon Studios series premiering on Friday, follows the adventures of eccentric superhero The Tick, a man in a blue spandex suit with feelers sticking out of his head who has no memory of his own origins.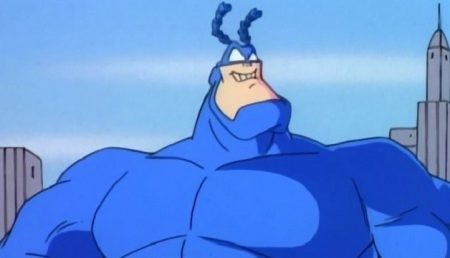 He and his bumbling sidekick Arthur fight incompetently against strange villains like Ramses IV, Ms. Lint, The Terror and Overkill, while encountering respected superheroes. "It's set in the real world where superheroes exist. I'm also a superhero, but even the superheroes think I'm weird," actor Peter Serafinowicz said in an interview of playing The Tick.
Superheroes have saturated Hollywood in recent years, including Disney-owned Marvel's 2008 action "Iron Man" and Warner Bros rebooting the DC Universe with Batman, Superman and Wonder Woman.
On television, shows such as "Gotham," "Agents of S.H.I.E.L.D" and Netflix's "The Defenders" have offered a more in-depth take on superhero stories.
The Tick, created by cartoonist Ben Edlund in 1986, has had two previous iterations on television, in a 1994 animated series and in a 2001 live-action series. The story has "always been in dialogue with whatever has been big in superhero pop culture at the time," said actor Griffin Newman, who plays Arthur.
Comments

LOS ANGELES, (Reuters) – Woody Allen's adopted daughter gave a tearful television interview yesterday, giving details of an alleged molestation by the filmmaker more than 25 years ago.

MUMBAI, (Reuters) – India's Supreme Court yesterday cleared the way for the release of a controversial Bollywood movie based on an epic poem about a 14th-century queen, a day after its producers went to court to fight bans by several states.

LONDON, (Thomson Reuters Foundation) – British-Indian sculptor Anish Kapoor donated $1 million to five charities working with refugees worldwide on Wednesday in a bid to alleviate a record-breaking global displacement crisis.

PARIS, (Reuters) – French activist and former actress Brigitte Bardot said many actresses sexually provoke film producers to win roles and then complain about harassment to get attention.

LOS ANGELES,  (Reuters) – Oprah Winfrey became the first black woman to be awarded a Golden Globe for lifetime achievement on Sunday, delivering an impassioned speech in support of those who have exposed sexual misconduct in Hollywood and beyond.