LOS ANGELES,  (Reuters) – Marvel and DC Comics superheroes may be battling for box office domination, but on the small screen, a little known blue superhero is offering up a satirical take on larger-than-life crusaders for justice.
"The Tick," a new Amazon Studios series premiering on Friday, follows the adventures of eccentric superhero The Tick, a man in a blue spandex suit with feelers sticking out of his head who has no memory of his own origins.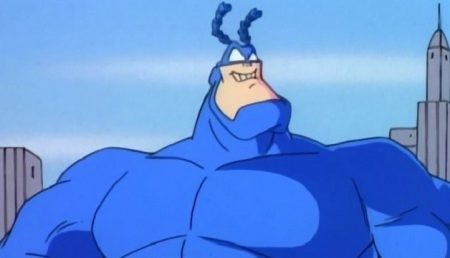 He and his bumbling sidekick Arthur fight incompetently against strange villains like Ramses IV, Ms. Lint, The Terror and Overkill, while encountering respected superheroes. "It's set in the real world where superheroes exist. I'm also a superhero, but even the superheroes think I'm weird," actor Peter Serafinowicz said in an interview of playing The Tick.
Superheroes have saturated Hollywood in recent years, including Disney-owned Marvel's 2008 action "Iron Man" and Warner Bros rebooting the DC Universe with Batman, Superman and Wonder Woman.
On television, shows such as "Gotham," "Agents of S.H.I.E.L.D" and Netflix's "The Defenders" have offered a more in-depth take on superhero stories.
The Tick, created by cartoonist Ben Edlund in 1986, has had two previous iterations on television, in a 1994 animated series and in a 2001 live-action series. The story has "always been in dialogue with whatever has been big in superhero pop culture at the time," said actor Griffin Newman, who plays Arthur.
Comments

LOS ANGELES, (Reuters) – Putting aside the sexual harassment scandal for a night, the stars of Hollywood came out on Saturday to celebrate the work of actor Donald Sutherland and four other filmmakers awarded honorary Oscars.

(LOS ANGELES, (Reuters) – Five women detailed sexual misconduct allegations against Emmy-winning comedian Louis C.K.

(Reuters) – Actor Kevin Spacey has apologized for an alleged attempt to seduce a 14-year-old boy more than 30 years ago, an encounter the two-time Oscar winner denied recalling but attributed to drunkenness as he also came out as a gay man on Twitter.
Rohingya refugees flee Myanmar for a new life in Malaysia only to suffer continued violence in the film, "Aqerat (We the Dead)", which paints a complicated portrait of a young woman caught up in human trafficking.

(Reuters) – Two-time Emmy Award-winning actor Robert Guillaume, who became one of the most prominent black actors on U.S.