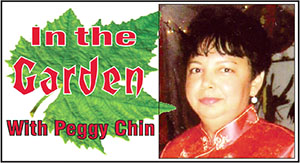 Ricinus communis commonly called Castor Oil plant originated in India.This shrub has many varieties. Lately, I have been seeing Castor Oil plants popping up and wondered if the seeds were flying. I kept checking the neighbourhood to see if there were any plants in flower. Lo and behold, it was birds that were bringing the seeds!

Castor Oil plants quickly attain the height of approximately 12 – 15 feet. Actually, the leaves are quite attractive; they are a glossy and palmate-shaped green. The fruits are also attractive – a colourful reddish/brown with spherical and prickly bodies when mature.
Castor oil is a useful tropical plant. The seeds contain ricin, one of the most poisonous substances known. However ricin is not soluble in oil and therefore the plant is of commercial value in oil production. Castor Oil is used in foods, medicine and beauty products.
Until next week, Happy Gardening.
Comments
Since the festival of Christmas commands a pre-eminent position – of observance and celebration – on Guyana's Annual Calendar of National Events, I thought I'd pen a few lines to provoke thought and meditation relevant to the "Real Reason for the Season".

To mark the anniversary of Martin Carter's passing on December 13, 1997, Gemma Robinson looks at Carter's Poems of Succession, published 40 years ago this year.
By Naicelis Rozema-Elkins It is about time, past due in fact, that the problem of sexual assault by teachers in our school system is addressed.

Focus on Guyana's National Budget 2018 represents the twenty-eighth edition of this Ram & McRae annual publication which highlights, reviews and comments on the major issues surrounding and raised in the National Budget.

By Mark Leonard LONDON – Over the last few weeks, media around the world have been saturated with stories about how technology is destroying politics.