There are times when you feel peckish but do not want a big meal; you want something that is savoury and satisfying. Having certain little treats on hand is always a good idea to take care of moments just like those. This is where things like a variety of cheese, fruity chutneys, cured meats, and spreads like pâté come in handy.
While liver pâté can be made with any type of liver, I prefer to make it with chicken livers because I find them much tenderer and naturally creamy. There are many recipes with long lists of ingredients with things like boiled eggs and bacon, liquids such as brandy, bourbon and cognac. I like to keep it simple – fresh chicken livers, onions, garlic, thyme, butter, and a little oil. Salt and freshly ground black pepper too.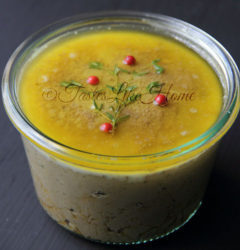 Here are some tips to follow:
Once all membranes are removed and the livers have been rinsed thoroughly, let them drain well. This is to avoid the livers popping and spitting hot grease when added to the pan.
Do not rush the time needed to cook the onions and aromatics to ensure that they are properly softened without getting brown.
Do not overcook the livers, if you do, when pureed the mixture may become dry, somewhat grainy, and require the addition of some sort of extra liquid to add needed moisture.
Opting to seal the pate with melted butter gives it a longer life in the refrigerator.
INGREDIENTS
1 pound fresh chicken livers
5 ounces butter (salted or unsalted)
3 tablespoons vegetable/Canola butter
1 cup finely chopped onions
1 ½ tablespoons finely minced thyme
Minced hot pepper to taste
3 cloves garlic finely minced
Salt and black pepper to taste
2 – 3 tablespoons melted butter
Sprig of thyme (optional)
DIRECTIONS
Remove any membrane found on the livers, rinse a few times with water and drain well in a colander for at least 10 -15 minutes.
Add the butter and oil to a cold pan and place over medium heat. When the butter melts and the froth subsides, add the onions, thyme, pepper and garlic. Sprinkle a little salt. Toss to mix then reduce the heat to low and cook until the onions are softened and the pan is fragrant.
Turn heat to high and add the livers separating them around the pan nestling them. Cook for 2 minutes then turn livers individually in the pan and cook for 1 to 1½ minutes or until just cooked.
Add all the contents of the pan to the bowl of a food processer and pulse until smooth and creamy. Season with salt and black pepper to taste, pulse to mix then transfer the pâté to a sterilized glass jar.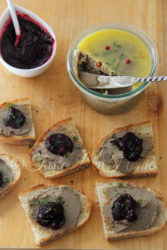 Spoon the melted butter over the pâté, place the thyme sprig if using in the center of the pâté and let cool to room temperature before putting in the refrigerator to cool and seal (the melted butter will harden). Once the butter is hardened, cover with cap or wrap tightly with plastic wrap.
When ready to use, let the pâté stand at room temperature for 10 minutes before using.
NOTES
If you are not sealing the pâté with melted butter, as soon as it is added to the glass jar, cover it with plastic wrap while still hot; it is important that you place the plastic wrap directly on to the surface of the pâté to prevent it drying out and changing colour.
Feel free to add other herbs such as celery, sage, marjoram, oregano and garlic chives (all fresh), to cook with the onions to flavour the pâté.
Around the Web