Rustling leaves hang to the ground creating a lovely, lit space. We were relaxing at home under the graceful green canopy in a cool clump of giant neem trees with the sea wind sweeping hair, birdsong overhead and the dogs lolling at our bare feet. Among my favourite island memories is admiring the sun slowly sinking through the dappled curtain, against the rugged outline of a ruined windmill that once powered the old sugar estates.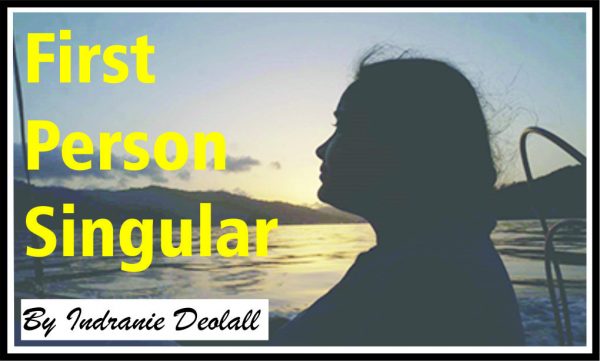 With waves lapping at the toes and laughing children playing in the surf, a serene walk on the nearby beach ranks high on the happiness list. As does a gentle canoe ride through the rippling black waters of a Guyana backwater creek, a summery stroll through the fertile "backdams" of my youth, reacquainting with fond friends and fine relatives, or the annual Easter experience of East Coast-kite flying with my excited siblings and the family. Lying on the grass with my young kids cheerfully contemplating the sky and competing to create crazy creatures from cumulus is another that has carried me to content and cloud nine.
The permanent pursuit of happiness is an age-old quest. In his beautiful Pleasure Garden, the ancient Greek philosopher Epicurus argued that the best life is one where we abstain from unnecessary desires and achieve an inner tranquility "ataraxia" by being content with simple things giving us peace and freedom from fear. We should also strive towards "aponia" the absence of pain, by choosing the exchange of civil conversations over the pursuit of physical pleasures.
Recently two small pieces of paper emerged with the brief thoughts of an extraordinary man who sought happiness like the rest of us, and inspiration through music and nature. As auspicious autographs go, it may not seem like much given the fold marks and tiny tears. A few neat lines of small, spidery script in still bright black ink on a signed single sheet of stationery, stained sepia with age.
"A calm and modest life brings more happiness than the pursuit of success combined with constant restlessness," is the translation from German. This week it sold for US$1.56M, because the signature is that of physicist, Albert Einstein, made famous by his scientific theories, above all, relativity.
Dated November 1922, the note from the Imperial Hotel in Tokyo is written by Professor Einstein who was on a Japanese tour to deliver a series of lectures. While travelling from Europe he was informed by telegram that he would be awarded the Nobel Prize of 1921 "for his services to theoretical physics, and especially for his discovery of the law of the photoelectric effect" which proposed that light is both a wave and a particle. Einstein decided to continue the journey according to his original plan to visit the Far East, Palestine, and Spain. The Prize was reserved and presented the following year.
"I have an unimaginable longing for solitude, and that's why I'm travelling to Japan, because that entails 12 weeks of rest at sea," he explained, according to the Einstein Archives at the Hebrew University, Jerusalem.
Someone who loved to walk in the woods for hours, he would observe, "We still do not know one thousandth of one percent of what nature has revealed to us."
The previously unknown sheet was originally estimated at US$5 000-US$8 000. A second plain leaf of paper with a similar expected estimate, bearing the words "Where there's a will, there's a way" sold for US$240 000, the Israeli auction site, Winner's said.
"The news of the Nobel Prize winner's arrival in Japan spread quickly, and when he arrived he found himself being welcomed by thousands of people flocking to see him. He was impressed but also a little embarrassed by the publicity he received and while he was staying at the Imperial Hotel in Tokyo he tried to record his thoughts and feelings on paper. When a messenger came to his room to give him something, Einstein did not have a tip available, and he decided to make the most of his new exalted status and give the messenger two of his writings. When he gave him the articles he told the messenger to keep them, as their future value may be much higher than a standard tip," Winner's related.
Dubbed Einstein's theory of happiness by the media, it is also a relative concept, although the unknown seller who is reported to be the nephew of the courier should be over the moon and in seventh heaven given that another of the great physicist's predictions did come true.
"I am really happy that there are people out there who are still interested in science and history and timeless deliveries in a world which is developing so fast," the pleased seller told the news service Agence France-Presse (AFP) on condition of anonymity after the sale.
While the delighted auction house has scored a total winner true to its name, in unhappy Guyana, politics and governance continue to be cursed by "the winner takes it all" attitude that treats those in acrimonious opposition, their dismayed supporters and the excluded civil society with contempt.
With the latest national crisis developing over the unnecessarily, insensitive unilateral appointment of the Chairman of the Elections Commission, the emerging arrogance of those in prominent power like their now pious predecessors have left our fledgling democracy and a fragile peace under threat, with a growing constitutional and moral furor. There is certainly no freedom from fear given that the selection process brokered by the former American President turned peacemaker, Jimmy Carter between the two main political parties worked since 1992 but now lies suddenly and conveniently discarded.
The rich buyers are betting on big returns for their investments in Einstein's scraps of paper bearing the brief insights and penned name of the man who is synonymous with genius, for as he noted, "The true sign of intelligence is not knowledge but imagination."
Yet knowing our painful past of racial conflict followed by decades of shamefully rigged elections engineered by the main party actively supported by the Army, and now at the coalition helm as it seemingly moves to consolidate control without so much as a sigh of dissent from within the ranks, has certainly triggered our always anxious imagination. We are right to worry why such an unusual unilateral move now, and what it means down the dark and dismal road for a newly-oil rich but divided and impoverished country facing a frightfully fraught future and uncertain elections in 2020.
Here in Trinidad, hard-hit residents of freshly flooded areas marooned by heavy rains and swollen rivers, and forgotten by the authorities lost many of their material possessions, as the Prime Minister sauntered off on his 18th overseas trip ironically on disaster prevention and management. For those suffering in several villages, happiness rapidly became a dry spot, a hot weather report, welcome bursts of sunshine, a warm meal and bottles of clean water. Communities mobilized what they could to help the affected.
One businessman opened his "Breakfast Shed" kitchen offering free freshly cooked meals to elderly persons and victims unable to prepare food. Elsewhere, people assisted each other with transportation, medical and essential supplies, and dry clothing.
A study from the University of Zurich (UZ) last July revealed that giving helps people feel good, even if they are only "a little generous."
People who act solely out of self-interest are less happy. In fact, sheer kind intent, or merely promising to be more generous, is enough to trigger a neural change in our brains that makes us happier.
Doing something nice for another person creates a pleasant feeling that behavioral economists call "a warm glow" media reports said. Collaborating with international researchers, Philippe Tobler and Ernst Fehr from the UZ's Department of Economics investigated how brain areas communicate to produce this reaction
The researchers found that people who behaved generously were happier afterwards than those who behaved more selfishly. However, the amount of giving did not influence the increase in contentment. "You don't need to become a self-sacrificing martyr to feel happier. Just being a little more generous will suffice," Tobler concluded.
Einstein would warn, "The world is a dangerous place to live; not because of the people who are evil, but because of the people who don't do anything about it." Writing to his wife Elsa in 1933, he would admit: "Thank goodness one cannot sell my skin during my lifetime … Here there is blessed calm. No one is allowed to … claim any rights on me" and "In front of my window [are] trees and water, chirping birds. Nothing unexpected occurs, everything quiet and comfortable as if arranged for contemplative musing."
ID enjoys Einstein's quip, "When you are courting a nice girl an hour seems like a second. When you sit on a red-hot cinder a second seems like an hour. That's relativity."
Around the Web