Despite City Hall being cash strapped and unable to help boost community development following the March 18, Local Government Elections, Constituency 14 has made progress, Deputy Mayor Sherod Duncan said, through the assistance of central government and private/public partnerships.
Duncan, in an interview with Stabroek News said several projects were undertaken in his constituency which runs from the back of South Ruimveldt Park to Ruimveldt Industrial Estate.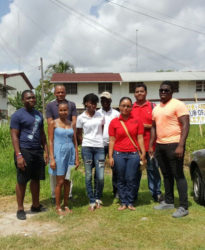 Duncan who currently serves as the Deputy Mayor of Georgetown, was elected in the First Past the Post voting system to represent his constituency on the council.
According to Duncan, within the last nine months, the constituency has benefited from road repairs between Rosa Drive and "Last Entrance" Christiani Street, David Rose Street and a section of Aubrey Barker Street close to Trench Road; rehabilitation of play grounds in Orealla Avenue and Tukeit Drive; restoration of street and traffic signs through the South Ruimveldt Gardens Phase 1 Community and Policing Group; and the cleaning and clearing of trenches with the assistance from the Mayor and City Council and the Ministry of Public Infrastructure. He said that the contracts for the cleaning of drains in his constituency were awarded to groups within the neighbourhood.
Duncan said the constituency was able to install five bus sheds along Aubrey Barker Street, map the drains in South and North Ruimveldt with the Dutch Risk Reduction Team to be able to modify flooding issues shortly in the communities, hold two public meetings in the constituency, interact with residents and listen to their concerns on issues affecting them, and get input from the residents on the 2017 city budget. It was also disclosed that two new community policing groups were added to the constituency.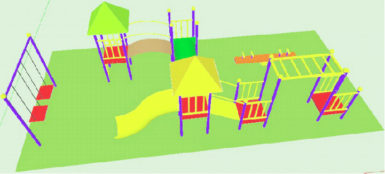 Duncan further highlighted that he is currently collaborating with the Rotaract Club of Stabroek to enhance and upgrade the Shirley Field-Ridley playground. This project, he said, should be completed within the first quarter of 2017.
Duncan said there are plans for the constituency to create a newsletter to better inform residents of what is taking place around them. He stated that while he has an active social media presence not everyone in his community is able to benefit from the updates. "Lot of residents are saying they don't know what is happening, and because of this communication is high on my agenda. With the newsletter we would be better able to inform people of what is happening and how they can play a part… I will seek funding from prominent businesses in the constituency for this, and other projects that we have in the plans," the Deputy Mayor said.
He added that he would also look at the probability of the constituency starting its own composting to reduce the collection of solid waste. Duncan said he is hoping that he would be able to work with the Mayor and City Council which is also in the process of rolling out a composting project, to educate and inform residents of the benefits of composting. Duncan also mentioned that he will continue to engage residents through community meetings to listen to the issues that they want to be addressed, and projects they would like to see undertaken to further develop the community.
According to Duncan, he had to make use of partnerships in order to propel development in the community since the city has been cash strapped and did not make provisions in the 2016 budget for the constituencies. The constituencies were drafted as a part of the hybrid Local Government Elections with First Past the Post and Proportional Representation voting systems.
"When we came into council we learnt that the constituency was a new idea for the 2016 Local Government Elections, and there wasn't money allocated for constituencies, and council was not able to support projects in community. We couldn't have access to funding to do things, so we had to turn to private donors to aid community development," Duncan pointed out.
However, he said that this year some $5 million have been allocated to constituencies to boost development.
Duncan went on to say that Constituency 14 has been able to lean on central government which funded road works and assisted with the rehabilitation of culverts.
The Deputy Mayor stated that Minister of Finance Winston Jordan who resides in his constituency has been instrumental in steering the community group into areas for funding which allowed it to erect the bus stops and signage.
He noted that if the constituency had to depend on the council, it would be waiting very long.
Apart from assistance from central government, Duncan pointed out that private entities such as Chung's Global and Cevons Waste Management whose operations are located in South Ruimveldt, have been very instrumental in helping to clean the environs of their business and assisting in other ways.
Duncan stated that several other private businesses located in the constituency have indicated their willingness to get on board and assist.
Meanwhile, there have been mixed views from residents. While some said they have seen the current Deputy Mayor in the community, others indicated to Stabroek News that they have not seen him since the campaign for the elections and they hope that he would be more active in the constituency this year.
Stephan Fordyce told this publication he has not seen the councillor around the constituency but met him in the market. Fordyce explained that persons who are elected should be visible among the voting populace since they depend on the votes to get into office. "If you get elected, do things to make the people feel proud, so when the next elections come you would get back the votes," the resident said.
He added that some streets in the constituency flood and he would like to see the drainage issue addressed urgently. He also stated that roads should be raised to prevent flooding of the streets.
Another resident, who identified herself as Miss Joseph said that she has not seen Duncan in the community and would like to see him more. "Persons have issues and need to voice it to him, so he can make representation to have it addressed," she added.
Joseph said that issues in the constituency such as street lighting, proper drainage and raising of the roads need to be looked at, in order for residents to benefit from a comfortable life. She said too frequently streets have been flooded, resulting in residents living in uncomfortable situations.
Jay Marcus a resident of Roxanne Burnham Gardens said Duncan has been present in the community and interacted with residents. The resident stated that Duncan who holds the post of Deputy Mayor until March 31, 2017, supported her group when they protested after a contract for cleaning the drainage in the community was withdrawn. She also stated that she would like to see the parapets and drains cleaned regularly as well as other improvements in Roxanne Burnham Gardens such as street lighting. She noted that the community was very dark and unsafe at night.
Miss Johnson of Shirley Field-Ridley Square expressed gratitude to Duncan for his strides in having the Stabroek Rotaract assist in creating a play park for the children. "This place got a lot of children and it would be a good place for them to play, rather than them running around on the road," Johnson said.
She added that on one walkabout the drainage issue was raised with the Deputy Mayor, because while the community of Shirley Field-Ridley Square does not flood, the health issue of the drainage situation needs to be addressed
Around the Web