Clarabel Johnson, 24, who was allegedly busted with just over nine pounds of cocaine while trying to get aboard a flight to Antigua, was charged on Thursday with narcotics possession for trafficking and remanded to prison.
It is alleged that Johnson, 24, of 142 Cooper Street, Albouystown, had is her possession 4.1 kilogrammes of cocaine (equivalent to just over nine pounds), for trafficking at the Eugene F. Correia International Airport, Ogle, East Cast Demeara on January 4th, 2017.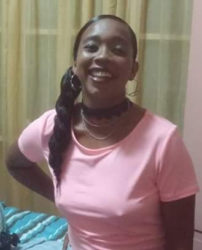 Johnson pleaded not guilty to the offence when she appeared before Magistrate Zamilla Ally-Seepaul at the Better Hope Community Centre.
Customs Anti-Narcotics Unit Prosecutor Konyo Sandiford-Thompson told the court that Johnson was about to board a LIAT plane destined for Antigua when she was apprehended by narcotics officers. The drugs were found in the suitcase that belonged to the accused, the prosecutor added.
According to Sandiford-Thompson, Johnson admitted, after being cautioned, that she was aware that she was in possession of the drugs. Johnson had told officers that she was given the bag of cocaine to carry to Antigua.
Sandiford-Thompson objected to bail and Magistrate Ally-Seepaul subsequently remanded Johnson to prison. The case was adjourned until February 27th.
Around the Web