The former Stabroek Square vendors who had been plying their trade on the vacant lot at the corner of Hadfield and Lombard streets have been given permission by the Mayor and City Council (M&CC) to return to open spaces in proximity of the Stabroek Market.
The vendors were allowed to return after the lease to occupy the plot of land, which had been euphemistically called 'Parliament View Mall,' expired on December 31, 2016.
Vendors had used the land to ply their trade for eight months. They were initially allowed to vend on the land for three months, after they were removed to facilitate a massive cleanup of the Stabroek Square and surrounding area last April.
From the get go, vendors had complained bitterly about not being able to garner sales. Fruit vendors were eventually allowed to sell on the parapet of the former Guyana National Cooperative Bank building nearby; this was in November.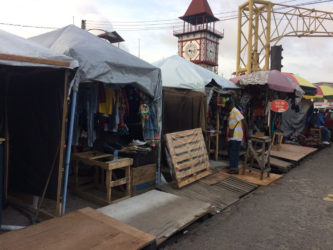 Clothing vendors followed in December, and they were allowed to occupy vacant spaces near the Route 42 minibus park after Mayor Patricia Chase-Green and Chairman of the Markets Committee Lionel Jaikarran visited and listened to their concerns. The clothing vendors were to be allowed to occupy those spots until December 31. However, vendors told Stabroek News that Chase-Green and Town Clerk Royston King who were on a walkabout on December 31, informed them that they could stay where they were until the council figured out a permanent spot for them to ply their trade.
When Stabroek News visited the Hadfield and Lombard streets lot on Friday, frames of tents under which vendors were selling had been thrown into a corner, and all of the vendors had evacuated the land to occupy spaces around the bus park and market area.
Stabroek News gathered from the vendors that they were not allowed to vend on the Stabroek Square and they must ensure their environs were kept clean or they would not be permitted to sell.
The said, "2017 started off great" since they were allowed to return on the road and vend.
However, one vendor who asked not to be named, suggested that the council should have specified the stall size and height to allow uniform vending.
He stated that he was happy with the decision of the M&CC to allow them to return to the busy areas. "You see we are here and now we are able to call on customers to buy something. This is what we wanted," the vendor said.
Meanwhile, when Stabroek News contacted Jaikarran, he said no firm decision was made on the relocation of the vendors.
He stated that the markets committee had met and recommended several open spaces to relocate vendors: the old Ferry Stelling, near the Stabroek Market area, Stelling View Mall and the parking lot of the Ministry of Social Protection.
Efforts to contact the Mayor, Town Clerk and the city's Public Relations Officer Debra Lewis for a comment on the issue proved futile.
Around the Web