Less than a month after the toddler and cancer patient Omkar Persaud travelled to Cuba for emergency surgery to prevent him from going completely blind, tests have revealed that the cancer in his eye has not spread to his right eye.
Almost 2 years old, Omkar Persaud was first diagnosed with Retinoblastoma (cancer of the eye) just after he was born.
He received treatment for the condition at Dr Balwant Singh's Hospital before he was subsequently able to undergo the necessary surgery last October to remove his left eye.
However, while the surgery was successful, a further examination of the right eye revealed that the cancer had already spread, putting him at risk of losing his right eye and by extension his eyesight, and also of having the cancer spread to his brain.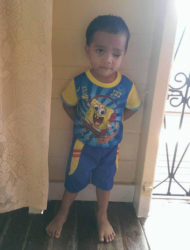 Stabroek News was able to peruse medical documents presented by the family, issued to them by the Hospital's Consultant Ophthalmologist Dr. Neeraj Jain, which confirmed the family's claims.
The toddler was accepted at the Comercializadora Cuban Medical Services for treatment on December 15, at an approximate cost of GYD$3.3 million. With donations from the SHEA Foundation, the Ministry of Public Health, Roraima Airways and other contributors, Omkar and his mother Casandra Persaud were able to travel to Cuba for treatment.
Stabroek News understands that while in Cuba, Omkar completed several tests and cancer related treatments, the results of which indicated that the cancer did not spread to his right eye as previously suspected.
But, cancer is still present in the surrounding area of his left eye-socket and it was recommended that he undergo 25 sessions of radiation therapy at the INOR Cancer Centre in Havana, Cuba.
Having been told this, the child's mother decided it would be best for the treatment to be done in Guyana, where Omkar can be closer to his family. They returned home last Friday.
According to the child's father, Kemcham Persaud, Omkar is expected to receive treatment at the Cancer Institute of Guyana and the Georgetown Public Hospital in the near future.
Nonetheless, the senior Persaud related that this son remains in high spirits and is "getting along" just fine."
A cancer of early childhood, retinoblastoma can affect developing foetuses in the womb, as well as newborns, babies, toddlers, and children up to five years old. It is also said to be the most common type of eye cancer in children.
Kemcham Persaud told Stabroek News that although the diagnosis was made just after his son was born, doctors said surgery would have to wait until he was older.
Around the Web