A man was assaulted by fellow detainees in the lock-ups of the Georgetown Magistrates' Courts yesterday.
Colvin Johnson suffered several injuries as a result of the attack, which was carried out by two other men.
Although it had been intitially reported that Johnson was stabbed several times about his body, Cynthia Johnson, his mother, told Stabroek News that her son's head was hit against a concrete wall several times.
She said that as a result of the injuries to his head, her son bled from his nose, his left eye was bloodshot and his entire face was swollen.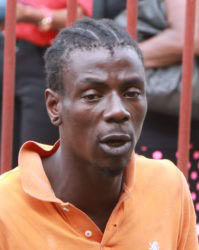 She added that when she visited him at the hospital, she observed that he was able to stand. She said he was subsequently taken to the Camp Street jail and returned to court for 1pm to receive his next court date. She said he was taken to the Lusignan Prison afterward.
The reason for the assault was unknown but the two men who allegedly assaulted Johnson were escorted from the court after the incident.
Johnson was one of the men charged with the murder of Paul Rodney, committed, on, November 21, 2016 at Avocado Square, East Ruimveldt.
He was also one of the men charged with the robbery of America Street moneychangers.
Around the Web