The Middle Road, La Penitence beautician who was busted in the US state of Georgia in December 2015 has entered a plea deal with the US on the count of importing cocaine into the country.
She is to be sentenced on March 29th 2017, according to US court documents.
According to the plea deal on January 11th this year, a sentence of 15 months has been recommended. It would likely mean that Christopher would be sentenced to time served and then removed from the US.
In February last year, Christopher had pleaded not guilty to two cocaine charges.
According to US court documents seen by Stabroek News, on February 18, 2016, Christopher pleaded not guilty to two Grand Jury indictments.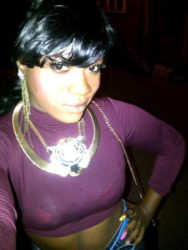 Count one accused her of knowingly importing a controlled substance into the US from Barbados and count two accused her of knowingly possessing a controlled substance with the intent to distribute. Under the plea deal, she will plead guilty to count one and count two will no longer be applicable.
Christopher was accused in court documents of carrying just over five kilos of cocaine concealed in nine pairs of shoes. The court documents said that she had been expecting a US$15,000 payoff for the job.
According to the court documents, when she was held in Atlanta, Georgia on December 16th, 2015  Christopher had been en route to the US state of New Jersey where the drugs were to be delivered. In his affidavit dated December 17th, 2015, US Department of Homeland Security agent Lucas Yates said that Christopher arrived at Hartsfield-Jackson International Airport in Georgia from Christ Church in Barbados aboard Delta Airlines Flight 688. Her final destination was Newark, New Jersey.
He stated that Christopher was sent for a secondary inspection based on a computer-generated referral and accepted responsibility for having packed the two suitcases and the contents therein.
Customs officers then conducted a baggage exam and discovered 14 pairs of various types of shoes inside the two suitcases. All 14 pairs of shoes were x-rayed and anomalies were observed in the heel area of some of the shoes, the affidavit said.
The officers further inspected the shoes that appeared to have anomalies in the heel area and noticed unusual stitching underneath the insole. One of the officers slit open the foot bed lining of one of the shoes and saw a white, powdery substance. This substance field tested positive for the properties of cocaine.
Yates further deposed that the remaining 13 pairs of shoes were inspected and the white powdery substance was found in eight more pairs of shoes. A field test was done on the substance from one of these pairs of shoes and it tested positive for the properties of cocaine. In total, Yates said that nine pairs of shoes concealed approximately 5.39 kilogrammes of the substance.
Authorities were monitoring Christopher's frequent travels from Guyana to the United States for a while.
For 2015 she had visited the country five times.
Around the Web