Two men, including the stepson of Kawall Shivnauth, who was stabbed to death during an altercation one week ago at Leonora, West Coast Demerara were yesterday charged with the crime and remanded to prison.
It is alleged that on January 9, at Leonora, Roopnarine Persaud called "Helicopter", 18, and Deonarine Lackhan called "Paskal", 23, murdered Shivnauth called "Rupee".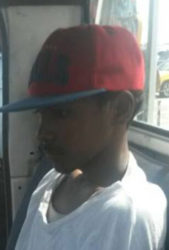 They were not required to plead to the indictable charge when they appeared before Magistrate Clive Nurse at the Wales Magistrate's Court and were subsequently remanded to prison until February 20.
According to initial reports, 37-year-old Shivnauth, a labourer of Wine Bush, Leonora, was stabbed to death last Monday afternoon following an altercation. He sustained two stab wounds around the region of his heart, a slash to his lower abdomen and one to his hand and was pronounced dead on arrival at the Leonora Cottage Hospital.
While the circumstances surrounding the incident are yet unclear, this newspaper had previously reported that Shivnauth was consuming alcohol when an argument ensued between him and Persaud. Other reports had claimed that the dispute started after the youth asked the man to purchase wine for him and his friends and he refused.
One of the suspects, who is a son of Shivnauth's female companion and who allegedly hit Shivnauth behind his head with a bottle during the brawl was taken into custody last Tuesday, while the other, who had fled to Matthews Ridge, North West District was captured by the police the said afternoon and flown to Georgetown.
An eyewitness had recalled that he was returning from the seaside after watching a game of 'sal-pass' when he heard the commotion and went to investigate. He said he heard the youth telling the man, 'Aye bai, you trouble me sista; she is a lil sista.'
The eyewitness recalled that he heard Shivnauth ask, 'You want see who is bad man?' and he had lashed the youth to his forehead with a bottle. Shivnauth had already sustained the chop to his hand.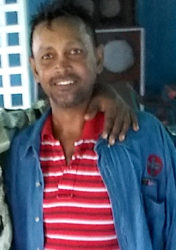 According to the eyewitness, the youth turned to walk away when he rubbed his injured forehead and realized it was bleeding. He then rushed back to Shivnauth and asked, 'Aye bai you shed me blood?' before whipping out the knife and dealing him the stabs and slashing him; Shivnauth then fell to the ground bleeding profusely.
The eyewitness said he ran home for a shirt and strapped the wounded man to hold his intestines in place.
Lalita Mahagoo, with whom Shivnauth shared a visiting relationship, said last Sunday was his birthday and she spent the night at his house. She last saw him last Monday morning when he left for work at the Uitvlugt Estate and she left to go home.
Around the Web