Local tourism company Wilder-ness Explorers has partnered with Europcar Suriname, to launch Europcar-Guyana, the first internationally recognised car rental service to begin operations in Guyana.
Launched last Friday at Cara Lodge, the new and exclusive international car rental service endeavours to enhance the experience of those tourists desirous of encountering Guyana's rich cultural history and biodiversity.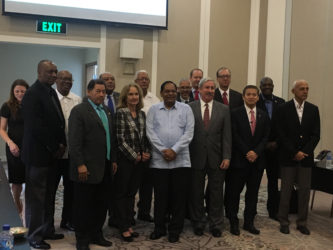 Originally established in Paris, France in 1949, Europcar International has operations in over 140 countries worldwide, covering Europe, North America, South America, Western Asia and Africa.
The franchise was introduced to Guyana by T-Net, the company which has owned and operated Europcar Suriname for the past 11 years.
The most notable features include access to brand new vehicles, and vehicles less than two years old, the option of online booking, the choice of self-drive or chauffeur driven service; and the booking of short or long expertly guided tours.
Additional services include 24 hour emergency service which will render assistance to clients irrespective of their location, and the introduction of the concept of leasing. Clients will be able to lease a brand new vehicle for three years from Europcar, and at the conclusion of this period, they will have an option to renew their lease with a new vehicle.
According to Shaun McGrath, former president of the Tourism and Hospitality Association of Guyana (THAG), the new service provides a safe and comfortable ride for travellers as they explore the rich biodiversity and cultural heritage of Guyana.
McGrath also believes that the introduction of an internationally recognized service sets a new standard for car rental service in Guyana, particularly so, since the standard of operations must meet the international standards before the franchise can be acquired.
"This launch tonight brings car rental in Guyana to an entirely new level, as the standard of operations and product delivery is set by Europcar International, and have to be met before the franchise can be obtained. The standards that are set are very high, and will be offered right here in Guyana," he said.
Meanwhile, the country's tourism industry will stand to benefit from numerous new opportunities, McGrath said, as he explained the concept of "self-drive or rubber tire traffic", an ever expanding sector in the tourism industry, that focuses on "self- drive adventure."
"Our partnership with Europcar allows us to develop a new product that will attract some of that rubber tire traffic to Guyana," he said, before alluding to Wilderness Explorers' new "Self-drive 4 x 4 Adventure."
McGrath continued by referring to one of Wilderness Explorers' most popular tours, the "Guyana Nature Experi-ence," which initially involved flying to interior resorts, and then using ground transportation from the resorts for travel.
Own pace
This, he said, has proven to be tedious, expensive and tiresome. However, with Europcar-Guyana, tourists would now be able to experience Guyana's vast biodiversity at their own pace.
"With our new 4 x 4 Guyana nature experience, all the guest has to do, is jump behind the wheel of one of our Amaroks and take off and explore Guyana at their own pace…They can navigate deep into the rain forest and break out into the Rupununi savannahs, while experiencing amazing wildlife sightings along the way," McGrath said.
However, for any reason whatsoever, guests after making the drive to Lethem choose not to make the return drive to the city, they would have the option of leaving the vehicle in Lethem and flying back to the city, while the company makes arrangements to retrieve the vehicle.
"Europcar-Guyana, moving the way of business in Guyana," McGrath contended.
Meanwhile, Minister of Business Dominic Gaskin, who also has responsibility for tourism, in brief remarks reaffirmed the Government's commitment to prioritising the development of Guyana's tourism sector.
Gaskin noted that the direction of tourism in Guyana has become clearer over the last few years, adding that a sustainable tourism model will be embraced.
"There's a clearer sense of what Guyana's tourism industry should grow up to become. As many of you know, the year 2017 has been designated the United Nations International Year of Sustainable Tourism for Deve-lopment, with the aim of increasing public awareness of the importance of international tourism in appreciating and understanding different cultures", the Minister said.
Apart from building bridges and promoting world peace, Gaskin believes that sustainable tourism also embodies a new regard for the environment, the society and the economy of the place that the tourist is visiting and this can have a positive effect on developing countries at many levels.
"The purpose of tourism cannot simply be to provide a venue for fun and frolic by persons with whom we have very little in common…this can no longer be sustainable in the world in which we live today," he added.
Nonetheless, he congratulated the two companies on their venture, as he believes it will contribute to the creation of a better version of the business in Guyana.
"There are always challenges to overcome when one tries to introduce new concepts into the marketplace or into a regulatory environment that might not easily accommodate them", the Minister said.
"Tourists have changed and have become a lot more aware and want to be even more aware of the people who inhabit the places they visit. This venture is a good opportunity for persons to visit Lethem and other Indigenous communities, enjoying the scenery at their own pace and all the other wonders Guyana has to offer," he added.
The introduction of the new service also received the support of THAG, who, through its President Andrea De Caires, welcomed the newest member of THAG to Guyana.
Describing the new venture as a fantastic one, she made special mention of the fact that the rental service allows citizens and tourists alike to enhance their travel experience in Guyana.
"This new venture would allow persons to travel more, and go anywhere they want to; stop where they want to stop, see what they want to see," she said.
Around the Web