Not wanting to lose its support base and seeking to get feedback from the public on myriad of issues, the Alliance for Change (AFC) yesterday began a 'Meet the Public' exercise, which saw an overwhelming turnout.
"We have been almost two years in government and we have been very busy at governing and to some extent, we  have not spent, I believe, enough time attending to party work and finding the balance that is important," Leader of the AFC Raphael Trotman told Stabroek News at the party's Railway Line, Kitty headquarters, where the outreach was held. "So this is really to get into a steady rhythm of …work," he added.
The AFC leader made clear that he had compartmentalised his roles and was yesterday seeing persons in his capacity as party leader and that none of his employees from the Ministry of Natural Resources were being used for the outreach.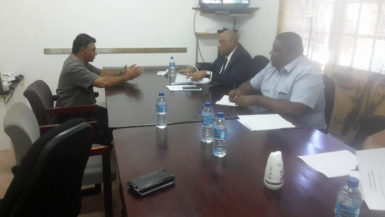 When Stabroek News arrived at the Sheila Holder Centre for Excellence yesterday, the waiting area was filled with persons wanting to have audience with Trotman.
However, in direct contrast to similar exercises held by the People's National Congress Reform (PNCR), where persons spoke to the press, no one wanted to state publicly why they had come.
One man would only say that he hailed from the East Coast Demerara and had "plenty, plenty things" to say to Trotman. But he would not give his name because he was fearful that persons in his village would find out that he attended the outreach. "You crazy or what? How you expect me fuh talk and gat to go back home and live in my village?" he questioned.
About four young men, who had converged at a nearby stall on the road, informed that they were waiting for the crowd "to die down lil" before they went inside to see if the party leader would speak with them.
They said that they were interested in knowing how they could be employed somewhere. "Just regular work and so. We want to work but work ain't deh suh we want know how he could help," one, who seemed the youngest of the four, said. Though told that if they gave their names, persons reading of their plight could intervene, another said they preferred to "tek we chances with the big man first."
After seeing about ten persons, Trotman pointed out that employment was one matter raised but it was not limited to his sector. "As you would notice there is no one here from the ministry, so I am keeping the roles separate. They discussed varied employment issues, not within my ministry but people looking for work, some about the ability to tender for contracts, general empowerment and issues pertaining to the mining sector," he explained.
After yesterday's session, persons seen would be contacted later and plans for subsequent follow ups are also on stream.
Trotman, who took over as leader of the AFC earlier this year from Khemraj Ramjattan, said the party was working to craft ways of hearing more from the public. He said the AFC did not want the years to swiftly pass and then have to lament that not much was done to connect with Guyana's citizenry.
"Both the members of the party and the public expect better interface or enhanced interface with the leaders of the party, both political and non-governmental. We thought it would be good for the party itself, at its headquarters, to have a more formal engagement with members, supporters, sympathizers and you have the citizens. It doesn't matter if you are a member or not, I think everyone has concerns, some relate to employment some are social issues and so on. Some are about government policy, even party policy," Trotman stated.
"So outside of the office setting, on a regular basis I am going to try to be here as leader at least twice per month. I think we will try to coordinate on a rotating basis our presence here… Being in government is so consuming by itself that it is quite easy for one to neglect, inadvertently, the base. So you wake up one morning and you find that your time in office is almost over and the party's members and structure and institution of the party is in a weakened state… We don't want that," he added.
Around the Web