Deodat Indar, of Sterling Products Limited, has been elected the new President of the Georgetown Chamber of Commerce & Industry (GCCI), which yesterday defended the election of its council at its Annual General Meeting as being above board.
"On behalf of its members, the Past Presidents of the GCCI and its Council wishes to make it categorically clear that the procedures followed at its recent elections were open, transparent and fair, and were no different from the procedures followed at previous elections.
A new Council that is representative of the wishes of the majority of those members who attended and participated in the elections of 16 March, is now in place and the new Council of the Chamber has pledged to ensure that the rules of the GCCI and procedures to be followed in the conduct of all future elections of the Chamber are aligned," the GCCI said in a statement issued yesterday.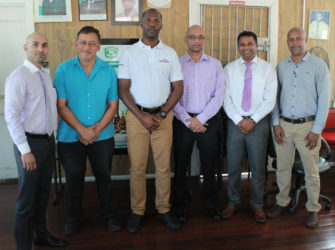 "The new GCCI Council is keen to continue robustly representing the interests of all members of the GCCI and to strongly advocate for the social and economic development of Guyana.
The GCCI will collaborate with other Chambers of Commerce, Private Sector organisations and stakeholders where common interests exist but, will remain an independent body," it added.
Its defence followed reports in the Guyana Chronicle suggesting that there were problems in the election, which was held at Duke Lodge last Thursday.
Indar was elected to lead the Executive Management Committee by the GGCI Council during a meeting on Thursday March 23rd.
The committee also comprises Nicholas Boyer, of National Hardware (Guyana) Limited, as Senior Vice-President; Timothy Tucker, of Rid-O-Pes, as Junior Vice-President; Kester Hutson, of Dapper Technology, as Secretary; Robin Muneshwer, of Muneshwers Limited, as Treasurer; and Vishnu Doerga, of Doerga Business Enterprises, as Immediate Past President.
The members of the Executive Management Committee were elected from the Council, which also comprised Shanti Persaud, of Silvie's General Store; Jennifer Cipriani, of Bank of Nova Scotia; Komal Ramnauth, of Kojac Marketing Agency; Doris Lewis, of The Gift Centre; Lance Hinds, of The BrainStreet Group; Anije Lambert, of Project Development Consultancy; Christopher Ram Jr., of Ram & McRae; Deslyn Griffith, of Extravagant Celebrations; Jean-Francois Gerin, of Amazon Caribbean Guyana Limited; Eon Grant, of Republic Bank (Guyana) Limited; Gerry Gouveia Jr., of Roraima Airways Limited; Navin Prashad, of M.P. Insurance Brokers & Consultants Ltd; Christine Bennett-Blair, of Camex Restaurants Inc; Sean Ramrattan, of RRT Enterprise; and Kaleshwar Puran, of Puran Brothers Disposal Inc.
Around the Web