A mother of five was yesterday sentenced to nine-and-a-half-year sentence after pleading guilty to unlawfully killing her common-law husband.
Pauline Williams will, however, have some six-and-a-half years deducted from the sentence for the time she has spent in jail so far awaiting trial.
Williams pleaded not guilty to murdering Augustine Henry but accepted responsibility for his death by admitting to the lesser count of manslaughter. She accepted that between November 5th and November 6th, 2010 at Essequibo, she unlawfully killed Henry.
Police had initially reported that Williams fatally struck her husband at Eclipse Falls, North West District, following an argument over money for their three children. Henry later died in hospital.  In a soft tone, the woman yesterday told the court that she was sorry for what she had done.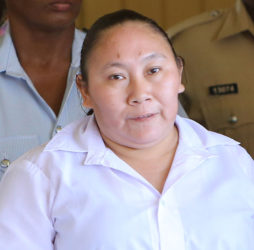 Justice Navindra Singh, who accepted the woman's plea at the High Court in Georgetown, said that after weighing the submissions made by both the prosecution and defence, the nine-and-a-half-year sentence would be imposed, with a deduction for time served.
Justice Singh explained to Williams that he would leave that deduction to be made by the prison, which would have the exact record of the time she had been on remand awaiting trial. He then told a visibly-relieved Williams that she should start preparing her mind to be reintegrated into society as she could very well find herself being released before independence in May. In his address to the court prior to sentencing, defence attorney George Thomas said that his client's exact age was unknown as she had no records.
He, however, said that she is about 36-years-old, and is the mother of five minor children.
In a plea of mitigation, Thomas said that Williams has been described by prison authorities as a model prisoner, who has been taking advantage of rehabilitative programmes.
He said that his client was taught clothing and textiles and now knows the art of sewing and embroidery, all of which she learnt while incarcerated.
He noted too that although the woman went into prison not knowing how to read and write, she now knows the basics, owing to the kindness of prison officers there.
Thomas further told the court that Williams is not a violent person and is no trouble to prison officers.
Counsel said that his client was drunk when the offence was committed, and cannot recall every detail of what transpired. He was, however, quick to point out that Williams did not intend to hide behind that veil. As a result, he said she opted to take full responsibility for what she had done, and does not want to waste the court's time. He said in hindsight, she has seen that her actions at the time of the killing were uncalled for.
The lawyer said he believed that if given an opportunity, his client will be able to make meaningful contributions to society, and asked for the minimum sentence.
In response, Prosecutor Tuanna Hardy asked the court to consider that a life had been lost, and asked for the imposition of a sentence commensurate with her actions.
The judge said he believed that it would be better for Williams to be able to care for her children.
Before wishing her "good luck," he admonished the woman to continue on the path of good behaviour and making use of the programmes offered by the prison, as this can also aid in her parole.
He, however, cautioned her not to fall again into the circumstances into which she had found herself
Williams was happily escorted out of the courtroom in the company of a group of smiling female prison officers, who hugged her.
Around the Web