Former Secretary General of the Guyana Commission to UNESCO Carmen Enid Peterkin Jarvis died on Wednesday night in Atlanta, USA. She was 91 years old.
It was only last year October that Jarvis returned to Guyana to launch her autobiography, From Seedtime to Harvest. The book's title was taken from the lyrics of the Bishops' High School's song where she was a student and later headmistress.
President David Granger was at that launch and yesterday in an invited comment he described Jarvis as a stalwart who from the pre-independence period made "an outstanding contribution to education." He recalled that she was in the Girl Guides and the country's representative to UNESCO and in that capacity gave Guyana great prominence for its heritage sites.
"…I was happy to be with her at that occasion… She was one of the people who helped to build Guyana; gave us one of the strong educational foundation we today enjoy," the Head of State said yesterday.
Further, in a statement issued through the Government Information Agency, Grangers said he recognised Jarvis as a distinguished Guyanese who lived a life of excellence and service to her country.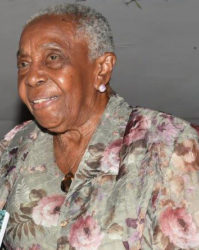 She was offered the post of Secretary-General of the Guyana National Commission of UNESCO in 1979, which she accepted, the release said. During her tenure there, she attended and participated in every General Conference between 1980 and 2003 and has made meaningful interventions in every Commission, even in cases where she was the sole delegate from Guyana. She was one of the longest serving and most respected individuals to hold the post of Secretary-General and was awarded the Aristotle Medal by UNESCO.
The release said Jarvis was also responsible for Guyana being elected on the Executive Board of UNESCO twice, from 1983 to 1987 and from 1993 to 1997. She played an integral role in Guyana once being elected to the Man and the Biosphere International Council and several times to the Council of the International Programme for the Development of Communication.
In 1983, she was appointed the first woman Chairman of the National Library Committee. She also served the Council of the University of Guyana for some 14 years.
In 1981, she was awarded the Golden Arrow of Achievement for long and outstanding service in Education and Social Work. In 1998, Ms. Jarvis was awarded a second national award, this time, the Cacique's Crown of Honour for her outstanding service in Education and Social Work, the release stated.
It added that the President extended sympathy to her relatives and friends, especially her two daughters, Jennifer and Alison.
Professor David Dabydeen, who wrote the preface for Jarvis' recent book and who had a close working relationship with her, described the fallen stalwart as "a magnificent lady who gave excellent service to Guyana, at the Bishops' High School, at the Ministry of Education and at the UNESCO office in Georgetown."
"I had the honour of working with her for several years on UNESCO matters and she was instrumental in raising many millions of dollars for funding a wide variety of educational and cultural projects in Guyana," he shared with this newspaper.
According to Dr Dabydeen Jarvis was of shining intellect but also someone who acted on ideas, bringing them to fruition.
"She was a thinker and a doer. Over the years she became a mother figure to me, and no doubt to many other Guyanese. I will miss her distinguished company and the inspiration she provided for many of us. A great tree has fallen. It will be hard to find shade and fruit elsewhere," he said.
Jarvis retired from UNESCO in 2004 after 25 years at the age of 80. She was 19 when she entered the school system as a teacher and began work at Smith Church Primary School. She remained in the primary system for many years before she began teaching at Queen's College but later moved to Bishops' High School.
Around the Web