Assistant Commissioner of Police and Force Training Officer Paul Williams yesterday urged 21 ranks who successfully completed this year's first Basic Drill Course to continuously practice their drills as they progress in the force.
He was speaking at the closing ceremony for Basic Drill Course 1/2017, which was held yesterday afternoon at the Tactical Services Unit (TSU), Drill Square, Eve Leary.
Twenty-one of the 27 ranks, including three women, successfully completed the seven-week course, which commenced on February 13. The course targeted corporals, sergeants and constables and saw participants from various divisions and departments of the force, including the TSU, the Presidential Guard and Special Constabulary.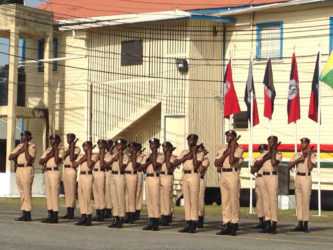 Williams reminded the participants that drill plays an important role throughout their career and he urged them to continuously promote it, since despite the level they might be promoted to, it always comes in handy.
"Drills are responsible for the transformation of you coming from a civil life to a military one, it creates pride for you to be a member of the joint services, brings about respect and also equips you with ambassadorial ethic," he said.
Members of the neatly attired team marched onto the TSU Square and displayed their drills, entertaining the audience, which included senior and junior officers and their relatives, with their drill exercise.
Trophies was awarded to the most outstanding students for their performances. Constable 22321 Branco was named best student, while Constable 21488 Grenville copped the runner-up title. The most improved student was awarded to Special Constable 14881 Thornhill.
Around the Web