A La Penitence house was completely destroyed in a mysterious fire yesterday but two others were saved from destruction after a prompt response by the Guyana Fire Service.
The house located at 183 Middle Road, La Penitence went up in flames around 1 pm. Stabroek News understands that the fire quickly consumed the house preventing the occupants from saving anything of value.
When Stabroek News arrived on the scene, fire-fighters had contained the blaze and the occupants Colin and Marlyn Clarke were being consoled by friends and family.
According to Colin, he had just returned from a "weeding job" and was enjoying a mango when he was alerted to the fire.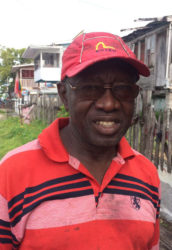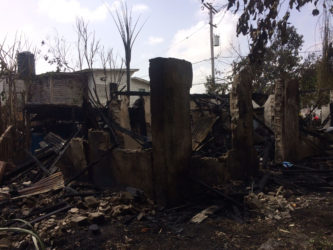 "I was outside the yard, sitting in the car and saw the smoke but I thought was the neighbour burning garbage… but then I was told the house is on fire. When I run inside I started to throw water but it had already spread and I couldn't manage it," Colin explained. He added he loosed the dogs that were chained and exited the yard.
Questioned on the possible cause of the fire, Colin said he believes it is an act of arson since there was a dispute over a house that he holds the power of attorney for.
The man said the house which was destroyed in the fire had two flats and they lived in the bottom flat. The flat, he noted was fully furnished with modern amenities. He also stressed that he lost his high-powered tools, a generator and an air conditioning unit and could not put a figure to the loss he suffered.
Annetta Olive, one of the neighbours whose house was scorched, said she was sleeping when the fire started. Olive said she was awakened by the "shouts of fire," coming from the road.  The mother of one said she quickly picked up her baby and hurried out of the house. Neighbours assisted her in saving some of her items, she noted. Relatives of Olive believe that it was a case of arson but had a theory different from Clarke's.
Head of Operations, Compton Sparman told this newspaper that the fire service has not ruled out any possibility as further investigations need to be completed. He pointed out that the house was filled with combustibles which fuelled the fire.
Stabroek News learnt that three fire trucks responded to the scene and were aided by several young men in putting out the blaze and soaking the houses on the eastern and western sides.
Residents sang praises to the fire service for a job well done.
Around the Web